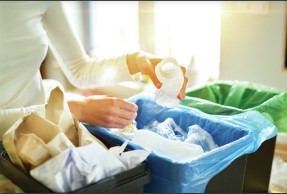 Dear Recycle Lady,
Several nonprofit organizations are sending coins glued to their letters requesting donations. After removing the coins there are globs of glue left on the letter. Must this glue be removed before recycling the letter?
Recycler
Dear Recycler,
Yes, the glue dots that hold the coins on the letter must be removed before recycling the letter with green dissolve in water. This causes problems for the company that buys our paper. Most glue dots can be removed simply by rubbing your thumb over them, or they can be cut out.
Dear Recycle Lady,
What are tree-corridors? I think they are found in forests, but I am not sure.
Curious Reader
Dear Curious Reader,
You are correct. Tree-corridors are found in forests, particularly in the Rainforests that have been cleared and left in large fragments. According to dw.com, 500 years ago Brazil's Atlantic Forest was the size of South Africa, but today over 90 percent of this global biodiversity hotspot has been deforested to make way for booming industries such as soy, sugar cane and cattle ranching. The Rainforest Alliance is helping to connect fragmented forests with green tree-corridors to "provide a lifeline" for animals, threatened species, and pollinators. Research has shown that when patches of forest are isolated from each other, pollinators are less abundant, and plants frequently fail to reproduce. Connecting forests with a pathway of trees, shrubs, and native plants that have been broken up by clearcutting contributes to a richer biodiversity of plant species. Pollination by bees, bats and hummingbirds is increased when they can travel from one part of the forest to another. Healthy forests are an important part of the solution for global climate change.
Dear Recycle Lady,
What is green methanol?
Want to Know
Dear Want to Know,
According to freetheocean.com, green methanol is a cutting-edge fuel extracted from food wastes in landfills. (This process is similar to the one at the Raleigh County landfill that generates enough electricity to heat 2,400 homes in the Beckley area with processed methane captured from their landfill.) The shipping giant Maersk will embark this summer on its first voyage from South Korea to Denmark powered by green methanol. This eco-friendly fuel can reduce emissions from the ship by 65 – 70%. Kudos to Maersk that has ordered that 25 more of their current vessels be retrofitted to run on green methanol. Globally, shipping companies are working to reduce greenhouse gas emissions and reduce air pollution in ports as they contribute approximately a billion tons of carbon dioxide (C02) annually. Green methanol is one way they can reduce their carbon footprint.
Good News: According to Oceana.com, countries around the world are working to protect 30% of their land and sea by 2030. It is contributing toward this goal and working with its allies to protect even more marine habitat. Marine protected areas and other marine reserves have been proven to preserve biodiversity, help overfished species recover, and make habitats more resilient to climate change.
Have questions about recycling, or interesting information about recycling? Send questions or requests to recyclelady@greenbrier-swa.com. Dear Recycle Lady is sponsored jointly by the Greenbrier Recycling Center and Greenworks Recycling.