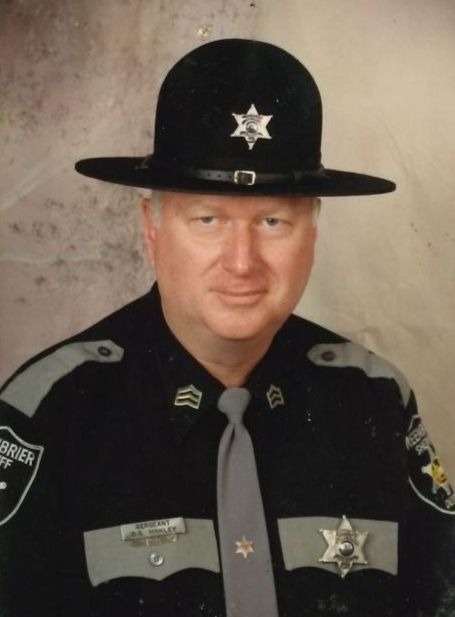 Lewisburg-David Stephen Hinkley, 65, passed away Monday, Jan. 25, 2021, at Greenbrier Valley Medical Center.
He was born Apr. 9, 1955, at Ronceverte, a son of the late Bobby T. and Wanda Mae Keeney Hinkley.
David was a retired Deputy Sheriff, was a member of the WV Deputy Sheriff's Association, was a former EMT with Alderson and Monroe County Ambulance Squads, was a former member of Alderson Fire Department and was a Marine Corp. Veteran.
In addition to his parents, he was preceded in death by a daughter, Lisa Nicole Hinkley.
He is survived by daughter, Sabrina Kay Hash and husband James of Alderson; two sons, Daniel Jay Hinkley of Alderson and David Austin Hinkley of Covington, VA; grandchildren, Briana Boggs, Abigail Hinkley, Carter Hinkley, Hunter Hinkley, Dakota Danner, James R. Hash, Angelique Hash, Victor Hash, Evan Plott, Shawn Hash, Alicea Hash, Gabriel Hash, and A-Lynn Hinkley; two great-grandchildren, Kingston Boggs and Greyson Hash; sister, Pam Shields of Alderson; two brothers, Bobby Hinkley and wife Diana of Ronceverte and Gary Hinkley of Lewisburg.
A walk-through visitation will be held from 6 to 7 p.m. Saturday, Jan. 30, at Wallace & Wallace Funeral Home in Ronceverte followed by a service at 7 p.m.
Per his wishes, cremation will follow the service.
In lieu of flowers, donations of sympathy may be made to Alderson Fire Department & EMS, P.O. Box 647 Alderson, WV 24910.
Online condolences may be sent by visiting www.WallaceandWallaceFH.com.