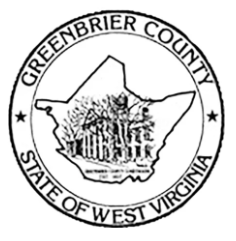 By Adam Pack
The Greenbrier County Commission met for their regularly scheduled meeting on Tuesday, Apr. 11 to announce ongoing county business as well as a pair of new hires.
Greenbrier County Sheriff Bruce Sloan was on hand to present Aaron Davis for the commission's consideration in joining the Sheriff's department. A current member of the West Virginia National Guard serving in the regional prison system, Davis has passed his prerequisite physical and civil service exams, as well as background checks, and will be available to start work as a Sheriff's Deputy pending successful graduation from the police academy. The commission approved Sheriff Sloan's presentation of candidates for deputy unanimously. Sheriff Sloan also wanted to remind the public that anyone interested in becoming a police officer must pass a physical fitness test, the civil service exam, and a background check. "We had several people apply in the last window, but only two were able to pass the civil service exam. Which is a shame, because we had some good candidates who didn't make it through because of that."
The newly elected Circuit Clerk Jamie Baker presented a candidate to work in her office, as well. Baker asked the Commission to approve the hiring of Melissa Meadows to work in the clerk's office, which they did unanimously.
The county also set the date for the laying of the levy as Apr. 18, at 1 p.m., and proclaimed that April is officially National County Government Month in Greenbrier County. The Commission encourages, "community members to thank those county employees that make life what we know it in Greenbrier County."
The Greenbrier County Commission will meet again on Tuesday, Apr. 25, at 10 a.m. in the Greenbrier County Commission offices, in the basement of the courthouse. The public is encouraged to attend. Interested parties should call 304-647-6689 ahead, as times and dates are subject to change.