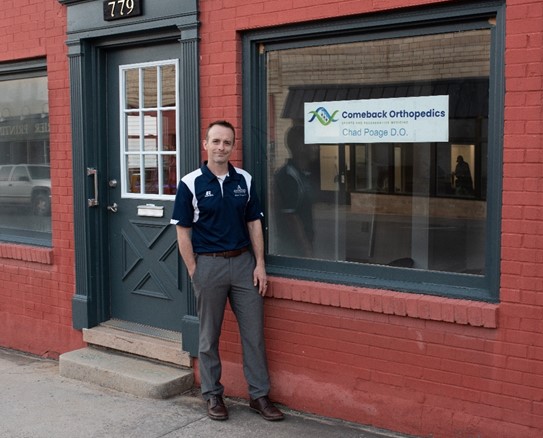 Chad Poage, D.O. is pleased to announce the opening of his new practice, Comeback Orthopedic Sports and Regenerative Medicine, at 779 S. Court Street in Lewisburg. Here he will offer a full spectrum of evaluation and treatment options for musculoskeletal conditions, including orthopedic exams, injections, Osteopathic manipulation (OMM), fracture care, and Platelet Rich Plasma therapy, also known as PRP. PRP is placed into an area of injury or degeneration and is useful for promoting healing using the body's own cells. Patient Suzanne says about her PRP therapy "My knee feels brand new after years of arthritis pain!"
Dr. Poage is extensively trained in orthopedic surgery, sports medicine, orthopedic evaluation, and management of musculoskeletal disorders. He is passionate about seeing patients restored back to their "pre-injury" state, whether that refers to an acute activity-related injury or dealing with the pain and dysfunction accompanying chronic diseases like arthritis.
A graduate of the West Virginia School of Osteopathic Medicine, Dr. Poage completed his residency in Orthopedic Surgery at Western Reserve Hospital in Cuyahoga Falls, OH. He then completed a fellowship with world-renowned sports surgeon Dr. James Andrews in Gulf Breeze, FL, where he had the opportunity to care for world-class athletes while learning from the best in the business.
Dr. Andrews fondly remembers Dr. Poage's time at the Andrews Institute and states, "It is with great enthusiasm that I make this recommendation for Dr. Chad Poage. Following his orthopedic residency, he did a fellowship with me at Andrews Institute in Gulf Breeze, FL from 2014-2015. He was an exemplary fellow and is extremely well-trained in both orthopedics and sports medicine. His thoroughness, attention to detail, organizational skills, and analytical thinking are above reproach. It is for all these reasons that I recommend him highly."
Dr. Poage's training and experience have made him well-equipped to provide care for the people of his home state of West Virginia. He has a conviction that it's time to get back to the basics of quality patient care. "Rather than focus on production, numbers, and all the things that detract from the patient experience, our focus is excellence of care, providing world-class care with a small-town feel," said Dr. Poage. As a part of that philosophy, Comeback Orthopedics offers home visits for those patients who may have mobility or transportation problems, and in most cases can provide same day or next day appointments. To learn more about Dr. Poage's approach or make an appointment visit: www.comebackortho.com and click on appointments or call/text 304-900-0997.