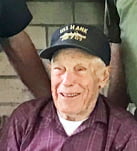 Ronceverte-Clyde Oden "Jack" Taylor, 97, passed away Tuesday, Sept. 1, 2020, at the Meadow Garden Nursing Home, Rainelle.
Born July 23, 1923, in Wolf Creek, he was the son of the late Lawrence E. and Eula Mae Brooks Taylor.
Jack was retired from the Snowflake Quarry as an Equipment Operator. He was a U.S. Navy World War II Veteran, serving aboard the U.S.S. Hank. Jack loved to hunt, fish and watch baseball. He was a member of the West Virginia Wild Turkey Hunters Hall of Fame and an Honorary Member of the Vietnam Veterans of Monroe County.
In addition to his parents he was preceded in death by his loving wife of 51 years, Lelia Mae White Taylor; daughter, Berdenia Christine Perdue; sisters, Christine Deaver, Charlotte O'Connel and Virginia Boone; and brothers, Calvin, Clayton and Carl Taylor.
Survivors include one son, Dennis Taylor (Kay) of Union; sister, Cindy Taylor of Poca; grandchildren, Brian Perdue (Jody), Zachary Taylor (Kate), Brent Perdue (Tara) and Zebulon Taylor (Auri); great-grandchildren, Juliana, Alaina and Gavin Taylor, Ava, Jack and Joe Perdue, Kayne and Kyson Taylor; and many nieces and nephews.
Funeral service will be at 12 noon, Friday, Sept. 4, at the Morgan Funeral Home Chapel, 252 Montvue Drive, Lewisburg, with Pastor Charlie Reynolds officiating.
Burial will follow in the Greenbrier Memorial Gardens Cemetery, Lewisburg.
Visitation was Thursday evening, Sept. 3, at the funeral home and one hour prior to the service on Friday.
Online guestbook may be signed at www.morganfh.net.