By Lyra Bordelon
Over 60 Greenbrier County residents were vaccinated against COVID-19 in a clinic held for Black, Indigenous, and People of Color (BIPOC) at the Clingman Center in Lewisburg on Saturday, February 20. With more clinics expected in the near future, local organizer Loretta Young emphasised the need for members of these communities to reach out to her.
The clinic was coordinated by the Partnership of African American Churchs (PAAC), with local support from Race Matters in Greenbrier Valley, the Robert C. Byrd Clinic, and the West Virginia School of Osteopathic Medicine.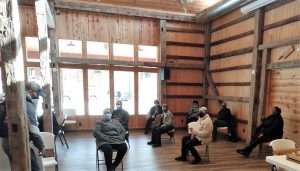 "Part of the state of West Virginia's strategy is that we know African Americans are twice as likely- twice as likely- to come down with COVID and three times more likely to die from it," explained Young. "This is reflected also in the national statistics."
Greenbrier County's Latinx population is also a focus for the vaccination project.
"Last night, I also heard it is running the same [numbers] with the Latinx community," Young said. "The message we want to send to the Latino population is that this is for you too as well. …  Reverend Greg Scott is helping us with [outreach]."
The program brought 10 fully trained staff to the Clingman Center to administer the vaccine and maintain the proper records. The WV National Guard provided computer support and four Americorp members volunteered support.
"We were able to work with [WVSOM] and the Robert C. Byrd Clinic, [working] in the Clingman Center. We brought in their staff, we had two trailers full of equipment and people. We had about 60 people that we gave vaccines to. They'll come back at a later date and people who had their first vaccine will have their second [shot]."
Why the emphasis on communities of color? In addition to the higher rates of infection and death associated with COVID-19, the project also aims to address a systematic mistrust of medical institutions, referencing two famous cases of exploitation of the African American community by medical institutions. This includes the Tuskegee syphilis study, when African Americans were intentionally infected with the virus, studied, and not treated for approximately 40 years, and the theft of cells from Henrietta Lacks, a woman dying of cancer, which led to a cell line that made millions of dollars for pharmaceutical companies.
"Given the history, the sad history, of how African Americans have been used by the health system in the past, there's suspicion and there's fear and doubt about taking the shot," Young said. "We know that when you take the shot, you're protecting yourself as well as others."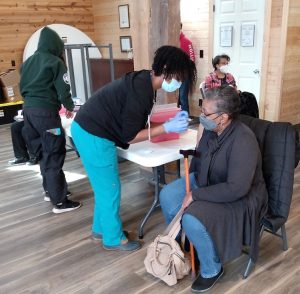 In order to combat this, a Zoom call was held with participants and the project's medical director, Dr. Gerff Cousins. About half of the participants were skeptical of the vaccine before the call – by its end, Young estimated 90 percent were ready to get vaccinated.
"They are arranging clinics all throughout the state of West Virginia to make sure that communities of color have opportunities to feel comfortable, ask questions. I'm not saying that the county is any different, it's just what our sad history has been in terms of trust. … People did ask questions, they said 'I'm a diabetic, should I take the shot?' 'I have heart problems should I take the shot?' [Cousins] answered very honestly and reassured people that there had been so few reactions thus far that a general practitioner could take care of any reaction."
In order to sign up for the next upcoming clinic, expected later in March, Young explained possible participants "would need to contact me" by calling 304-610-6834 or emailing lorettayoung26@gmail.com.
"Since supply has increased, I would say anyone 30 and up could sign up. In order to sign up, I'll need their phone number and their birth dates," Young said. "They're getting enough supply in – the president has said he hopes to have enough vaccines so that every American can be vaccinated [around early May]. We're excited about that. … We'll go anywhere to make sure that people are protected and that we really fight this virus."
Outside of the program, during a recent press conference, Governor Jim Justice also announced additional categories of citizens available to be vaccinated outside of the PAAC's program. This includes:
– All residents age 50 and above.
– All residents age 16 and above with any of the following pre-existing conditions: Down syndrome, intellectual and developmental disabilities (& their caregivers), caretakers of those with congenital diseases, organ or bone marrow transplant recipients, pregnant mothers, cystic fibrosis, obesity (BMI > 35).
– All educators age 40 and above.