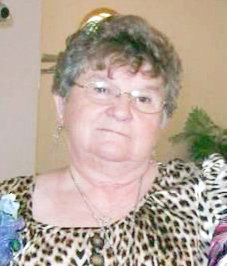 Lewisburg-Carol Virginia Loudermilk, 78, passed away Friday, Nov. 5, 2021, at Greenbrier Valley Medical Center.
Born Apr. 2, 1943, in Auto, WV, she was the daughter of the late Okie Lee and Pinkie May Loudermilk Seldomridge.
In addition to her parents, she was preceded in death by her former spouse and companion of 47 years, Gene William Loudermilk; children, Gene Jr., and Henry Lee Loudermilk; and three brothers and two sisters.
Survivors include children, Robert Loudermilk of Lewisburg, Pam Sawyers of Frankford, and Betty Andrews (David) of Roanoke, VA; brothers, Tommy Seldomridge (Barbara) and Edmond Seldomridge (Peggy) all of Frankford; sisters, Audrey Loudermilk of Fairlea, and Alice Stacy of Enola, PA; five grandchildren, 14 great-grandchildren, two great-great-grandchildren, and several nieces and nephews.
Funeral service was held on Tuesday, Nov. 9, at the Morgan Funeral Home Chapel where Rev. Danny Bostic officiated. Burial followed in the Wesley Chapel UMC Cemetery, Carroll Hill.
Visitation was Monday evening, Nov. 8 at the funeral home.
Online guestbook may be signed at www.morganfh.net