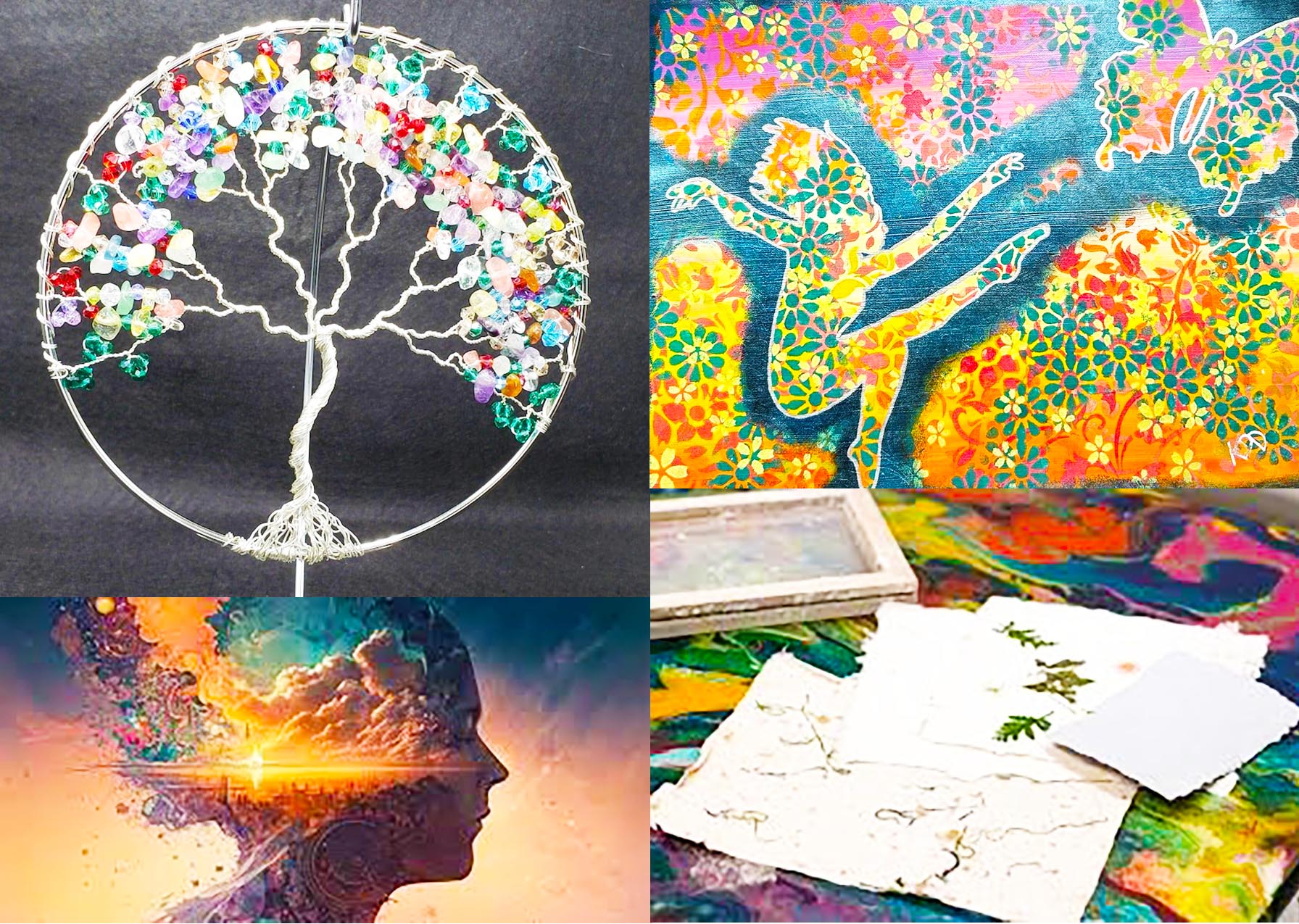 Carnegie Hall Classes and Workshopscontinue during November and December with four new creative classes: Tree of Life Jewelry and Suncatchers, Creative Dreaming, Layered Art Journaling, and Creative Paper Crafting. Students must be 12 years of age or older and class size is limited.
On Friday, Nov. 17, or Friday, Dec. 15, from 6 to 9 p.m., Anne Hunter will teach students how to make beautiful Tree of Life Jewelry and Suncatchers using precious stones and metal wire. Options will be available to create jewelry sized pendants and earrings or larger trees for suncatchers. A limited supply of specialty beads such as leaves, birds and flowers will be available. This project would make an amazing gift or a home accent. Cost is $65/members and $75/nonmembers.
Next up will be Creative Dreaming on Saturday, Nov. 18, from 11 a.m. to 2 p.m. In this introductory class, teaching artist Jan Darrah will discuss the key methods of lucid dreaming. The class will be followed by crafting an herbal dream tea, calming salve, and herbal pillow to promote the process. Cost is $55/members and $65/nonmembers. 
Layered Art Journaling taught by Kathleen DeRouen will take place on Wednesday, Dec. 6, and Thursday, Dec. 7, from 6 to 8 p.m.This creative and relaxing class will teach how to make beautiful, layered journal pages with overlapping patterns and designs that can reflect mood and help direct thoughts towards a constructive and artistic process. Time will fly as students experiment and create, leaving them with a clearer mind and a beautiful, one-of-a-kind piece of art. All materials are provided, and no experience is necessary.
Rounding out the group is Creative Paper Crafting taught by Cris Bartlett and Cyla Allison of Wannabe Farm. Explore the world of handmade paper through a step-by-step process on Friday, Dec. 8, from 5 to 8 p.m., and Saturday, Dec. 9, from 10 a.m. to 2 p.m. Students will learn to transform paper shreds into custom made, beautifully textured paper. Selection of seeds, dried flowers and herbs will be available to create one-of-a-kind paper creations. Artwork may be transformed into greeting cards, prints, special event invitations, and more.
To register or for a complete list of classes and workshops visit carnegiehallwv.org/classes-and-workshops or pick up a Classes & Workshops brochure at 611 Church Street, Lewisburg.
Carnegie Hall is a nonprofit organization supported by individual contributions, grants, and fundraising efforts such as TOOT and The Carnegie Hall Gala.The Hall is located at 611 Church Street, Lewisburg.  For more information, please call 304-645-7917 or visit www.carnegiehallwv.org.