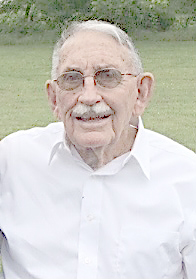 Organ Cave-Calvin Mckinley Weikel, 94, went to be with the Lord on Thursday, Aug. 12, 2021, at Greenbrier Valley Medical Center in Fairlea, WV.
He was born June 25, 1927, in Monroe County, and was the son of the late Edgar Spencer and Emma Honaker Weikel.
In his younger years, Calvin served in the United States Army and toured in World War II. He also worked on the railroad before working with Vecellio and Grogan. Calvin served as Pastor of  the Fairlea International Pentecostal Church of Christ for 40 years and held different positions in the church conference such as District Overseer. He was a loving husband and father, and a devout Christian who always put others before himself.
Calvin was preceded in death by his parents; an infant granddaughter, Betty Ann Dixon; his daughters, Yvonne Ester Dixon and Nancy Carol Weikel; and his nine siblings, Inez Holiday, Lola Baker, Leta Baker, Zelma Weikel, Eva Weikel, Roy Weikel, Seibert Weikel, Hobert Weikel, and Virgie Weikel.
Calvin was the last surviving member of his immediate family. Left to cherish his memory are his wife of 73 years, Ellouise Morgan Weikel; his son, Charles and Susan Weikel; his daughter, Kimberly and Randy Kirk; his grandchildren, Sandra Dixon, Joseph and Jean Kirk, Randy and Jayne' Kirk, Lauren and Tyler Lundy, Cassie and Owen Wood, and Jaden Kirk; and several nieces and nephews and great-grandchildren.
Public viewing services were held at Fairlea International Pentecostal Church of Christ in Fairlea on Sunday, Aug. 15, with funeral services following. A graveside service was held at Bethel Pentecostal Holiness Church Cemetery, Organ Cave. Justin Dixon, Joseph Kirk, Randy Kirk, Jimmy Lucas, Billy Morgan, and Greg Weikle served as pallbearers. 
Wallace & Wallace Funeral Home in Ronceverte is in charge of arrangements.
Please send online condolences by visiting www.WallaceandWallaceFH.com