The Meadow River Valley Association's Top, Near-Term Priority: Bringing New Life to the Former Rupert Elementary School Campus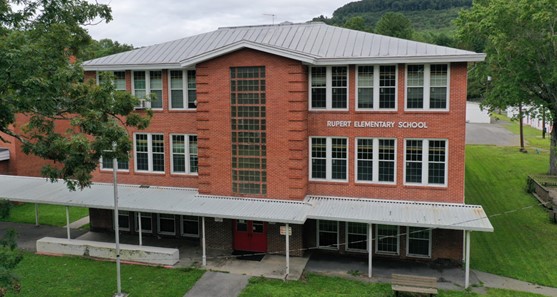 The Meadow River Valley Association, Inc. (MRVA) is releasing its Strategic Plan 2020-2025 for the Meadow River Valley region. This strategic plan focuses on community revitalization and includes a future vision for the community and an action plan to realize the vision. The plan is intended to move forward critical community and economic development areas of work for the Meadow River Valley as well as serve as a resource to encourage coordinated investments by public and private funders.
The plan was created through a community engagement process, including a series of community gatherings in 2018 and 2019 focused on canvasing residents for input, priorities and need. A cross-section of local businesses, organizations and government entities vested in the Meadow River Valley were also encouraged to provide input and make recommendations for the region's future.
In support of long-term needs identified in these feedback meetings and the opportunity presented by a vacant school property, transforming the former Rupert Elementary campus to the Meadow River Valley Community Center is the strategic plan's top, near-term priority. Local residents will work with a MRVA leadership team to achieve this goal and other objectives outlined in the plan.
Key initiatives included in the strategic plan are:
Objective 1: to pull together a network of partners who support and can aid in the revitalization of the Meadow River Valley.
Objective 2: to build a project team for the Meadow River Valley Community Center that will join with planning experts to repurpose the former Rupert Elementary School campus.
Objective 3: to design and implement a plan for the Meadow River Valley Community Center that services the needs of area residents.
Objective 4: to assemble a coordinated Meadow River Valley volunteer program, matching need with those who want to get involved.
The entire plan is publicly available at: https://meadowriverorg.files.wordpress.com/2020/12/wvh040-blueprint-strategic-plan_mrv.pdf
The MRVA is currently seeking the support of community members who are interested in helping to realize this new direction for the Meadow River Valley. Those interested may contact David Lumsden, lumsdenwv@hotmail.com, 304-646-0798 to get involved.
The Meadow River Valley is one of six selected communities in the 2019-2020 Blueprint Communities Program, and this strategic plan was the primary outcome of a full year of volunteer service that twenty-four residents and local stakeholders invested into this program. Blueprint Communities is a collaboration between the Federal Home Loan Bank of Pittsburgh and the West Virginia Community Development Hub. Fifteen communities across West Virginia have participated since the start of the program in 2007.