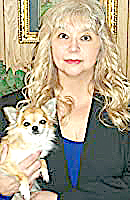 Local author Nancy Richmond's book Celebrity Stalker recently became Amazon's number one new release in their Civil Law category. The book went on sale worldwide June 21, 2021, and became the new best seller in the Civil Law division the following day. The author states in her book that she has been a victim of stalking herself, and that she wrote the book in order to help others who have been or are being stalked.
Richmond is a retired Greenbrier County judge, town recorder, and Seneca Mental Health Services employee. She is a certified genealogist and an historian, and a volunteer Wiki-Tree genealogist. Richmond is also an award winning author and a long time magazine and newspaper journalist.
Her books, which are available in paperback, Kindle, and audiobook format, have been published in seven different countries and in four languages. Several volumes have been inducted as Historical Biographies into the Washington D.C. Library of Congress and can be found in their Adams and Jefferson Historical Reading Rooms.
Her book Abraham Vandal has been inducted into the National Society of the Sons of the American Revolution Library in Louisville, Kentucky. She is a member of the Greenbrier Historical Society, and she has been a contributing writer for their Journal. Her book Appalachian Folklore-Omens, Signs and Superstitions is used in West Virginia medical schools to introduce student doctors from other regions of the country to the unique culture and heritage of Appalachia.
Nancy Richmond and her husband Charles live in historic Lewisburg.