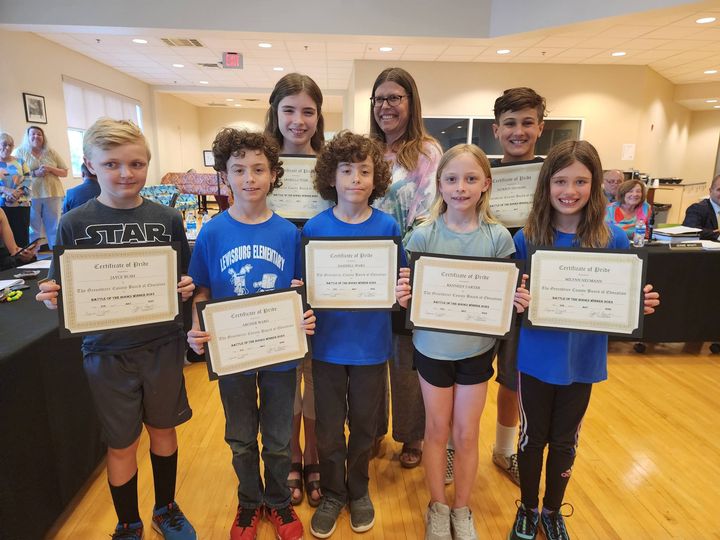 By Adam Pack
The Greenbrier County Board of Education met with standing room only on Tuesday, May 9, as they prepared to once again honor a large contingent of academic achievers from Greenbrier County who excelled in competitions ranging across multiple disciplines.
Before discussing students, however, Associate Superintendent Doug Clemons rose to honor the often unsung heroes of our school system: School Service Employees. From cooks to custodians and secretaries to bus drivers, in Clemons' words, "Simply put, our schools could not exist without these dedicated members of our staff."
Clemons and the board were pleased to announce that Service Employee of the Year for the 2023 School Year was so tightly contested that it only made sense to name both of the finalists. The two Co-Service Employees of the Year are Jennifer Morgan of Ronceverte Elementary and Lori Boswell of Alderson Elementary. The board honored them with unique plaques depicting Morgan and Boswell interacting with students at their schools.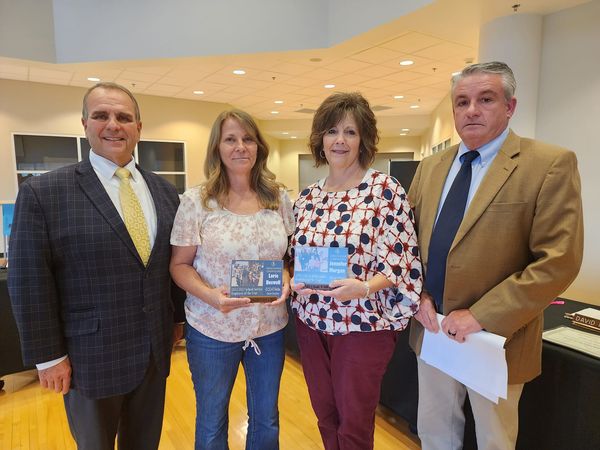 Moving on to academics, the board started their long list of accolades with the winners of the recent Battle of the Books. Students read six novels and answered specific questions about the books in a quiz bowl at Carnegie Hall. In the Elementary category, Lewisburg Elementary came out victorious. Team members were; Jackson Isenberg, Brack McClung, Archer Ward, Dashiell Ward, Arabella Webb, Jayce Bush (Alternate), Paisley Baldwin, Kennedy Carter, Dalia Huggi, Milyn Neumann & Abby Padgett, and were Coached by April Vincent. The Middle School title went to Eastern Greenbrier Middle school. Winners from the EGMS "Book Warriors" were; Gustavo Junceda, Gia Collins, Izzabella Winnings, Cora Whited, and Ava Taylor, led by Coaches Becky Campbell, Abigail Cline, Jenn McCallister, Brindi Nida & Eleanora Sams.
Academic Fair Director Jason Johansson, who organized the 2023 State & Science Engineering Fair, presented several Greenbrier County Students who achieved a podium finish at this year's state competition. Johnansson noted that the Science and Engineering Fair affords students the opportunity to "ask questions about their world, and … engage in real world problem solving regarding those questions; it encourages creativity, critical thinking, mathematics, statistics, spelling, public speaking, computer science, and so much more. Those students and their placements were; 1st Place State Winners were Arabella Webb, Hailey Williams, and Jackson Isenberg; 2nd Place State Winners Sophia Schoolcraft and Annaleigh Merritt; and 3rd Place State Winner Harrison Gwinn. Johnansson also noted, of county and regional winners, that, "in order to win your county you had to also win your school, so all those students from state winners on down did an incredible job."
Johansson also presented winners and participants in the 2023 Social Studies Fair. Dozens of students were successful in a test of their skills in geography, history, and cultural studies. Those students and their placements are:
1st Place County and 1st Place Regional Winners: Carter Huffman – Ronceverte Elem., Tayton Martin, Smoot Elem., Benjamin McDaniel, WGMS, DeWayne Warner, WGMS, Anderson Walker, WGMS, Vitale DeRouen, Alderson Elem., Annaleigh Merritt, Frankford Elem., Caroline Perilli Hancock, EGMS, Kendra Culyer, GEHS, Lillian Shannon, GEHS, Rozalynn Humphreys, GEHS, Grace Boettner, GEHS.
1st Place County and 2nd Place Regional Winners: Lakyn Loudermilk, Smoot Elem., Josiah Griffith, Lewisburg Elem., JJ Griffith, Lewisburg Elem., Anna Pack, Frankford Elem., Delaney Dameron, Rainelle Elem., Braelynn Critchley, Rainelle Elem., Camdyn Hanshew, Frankford Elem., Asher Jones, Frankford Elem., Cash Ridpath, EGMS, Wyatt Samples, WGMS, Karsten Burns, WGMS, Elijah McDaniel, WGMS, Jayden Blair, WGMS, Brayden Brown, GEHS, Slayton Utterback, GEHS
1st Place County and 3rd Place Regional Winners: Barrett Ott, Rainelle Elem., Yasmin Borders, EGMS, Hydee Wykle, EGMS, Nadia Borders, EGMS, Mazie Shaver, WGMS, Arabella Crookshanks, GEHS
1st Place County and Honorable Mention Regional Winners: Annika Smith, WGMS, Avery Burke, WGMS, Morgan Simms, WGMS
1st Place County Winners: Julia Troyer, GEHS, Casey Bair, GEHS
1st Place County, 1st Place Regional and 1st Place State: Isaac Tincher, EGMS, Emma Vincent, EGMS, Mallory Frye, EGMS
1st Place County, 1st Place Regional and 2nd Place State: Lily Tincher, Frankford Elem., Michah DeRouen, EGMS, Jenna Hunter, WGMS, Diana Porter, WGMS
1st Place County, 1st Place Regional and 3rd Place State: Asa Brown, Lewisburg Elem., Ethan Carter, Lewisburg Elem., Emily Conaway, Ronceverte Elem.
1st Place County, 1st Place Regional and HM State: Arden Woods, Frankford Elementary, Macie Hileman, Frankford Elementary, Conrad Laird, Lewisburg Elementary, Lucas Hughes, Lewisburg Elementary, Liam Cunningham, Lewisburg Elementary, Madison Burdette, WGMS, Ellie Burns, EGMS, Nathaniel Vincent, GEHS, Mya Monroy, GEHS, Isabella Gabbert, GEHS, Jacelyn Lilly, GEHS
Lastly, Greenbrier County Schools Director of Technology Dr. Vicky Cline, and former Golden Horseshoe winner, presented Greenbrier County Golden Horseshoe winners for 2023. Cline said of the students who won that, "as a former winner myself, I know from experience how hard it is and how much work students have to do to achieve a Golden Horseshoe, so we are so proud of them and how well they represent Greenbrier County with their knowledge of our state's history." Golden Horseshoe winners will also be honored at the West Virginia Department of Education's Golden Horseshoe ceremony on June 13 at the West Virginia Culture Center in Charleston, WV.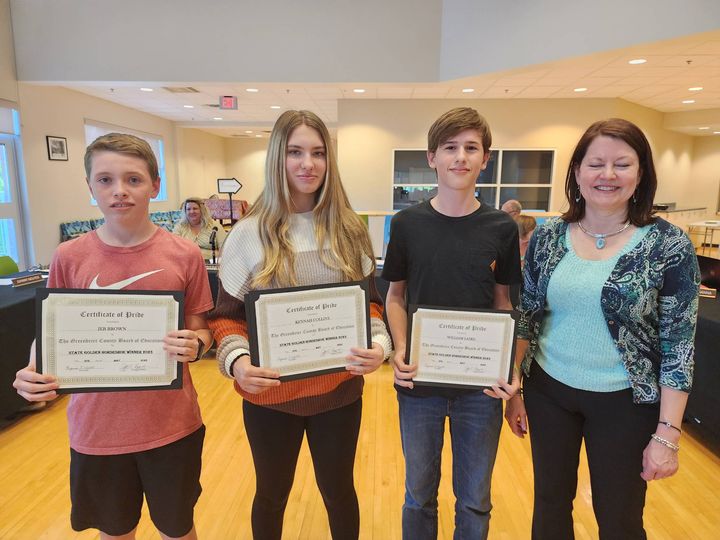 The Greenbrier County Board of Education will meet again on Jun. 13 at the Kyle & Ann Fort Arts and Science Center. As this is the first summer meeting of the board this calendar year, the meeting will be moved to 1 p.m. The public is encouraged to attend. Interested parties should call 304-647-6470 to confirm meeting time, date, and location prior, as they are subject to change.