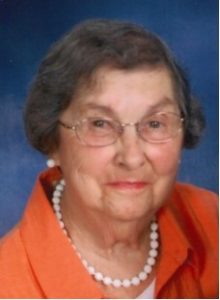 Lewisburg-Betty O'Field, 99, passed away Thursday, Oct. 26, 2023, at Genesis White Sulphur Springs Center.
She was born Feb. 17, 1924, to Stanley James and Bessie Hall Burcham of Ashland, Kentucky.
She graduated from Ashland High School in 1941.
Betty had her first date with her husband Barney on her 18th birthday and they were married by her grandfather on Aug. 5, 1942. She was the secretary for the WV Veterans Affairs office in Lewisburg for 20 years. 
She was a member of the Eastern Star and enjoyed many years on a local bowling team. Her two favorite activities were at Lewisburg United Methodist Church where she was a member of the Peacemakers Circle and part of the kitchen crew that served hundreds of meals. She was most proud of her travels to Europe, Asia, South America, Australia, and all 50 states.
She lived her life independently in her home until the last few months. A special thank you to the staff at White Sulphur Springs Center for the love and care they provided.
In addition to her parents, Betty was preceded in death by her husband of 74 years, Barney; son, Bill O' Field; and granddaughter, Kristy O' Field Fisher. 
She is survived by her daughter, Patty Warren (Doug); daughter-in-law, Donna O'Field; grandchildren, Laura Morton (Ben), Beth Hundley (Chris), Carrie Withrow (Tommy) and Steve O'Field; great -grandchildren, Alex and Kate Morton, Drew, Nathan and Jacob Hundley, John, Grace and Quinn Withrow and Ashlyn Fisher.
A graveside service is planned for Saturday, Oct. 28, at 3 p.m. at Rosewood Cemetery in Lewisburg, with Rev. Bev. Colombo officiating.
Memorial donations may be made to Lewisburg United Methodist Church, 1133 East Washington Street, Lewisburg, WV 24901.
Wallace & Wallace Funeral Home in Lewisburg is in charge of arrangements. Please send online condolences by visiting www.WallaceandWallaceFH.com.