By Lyra Bordelon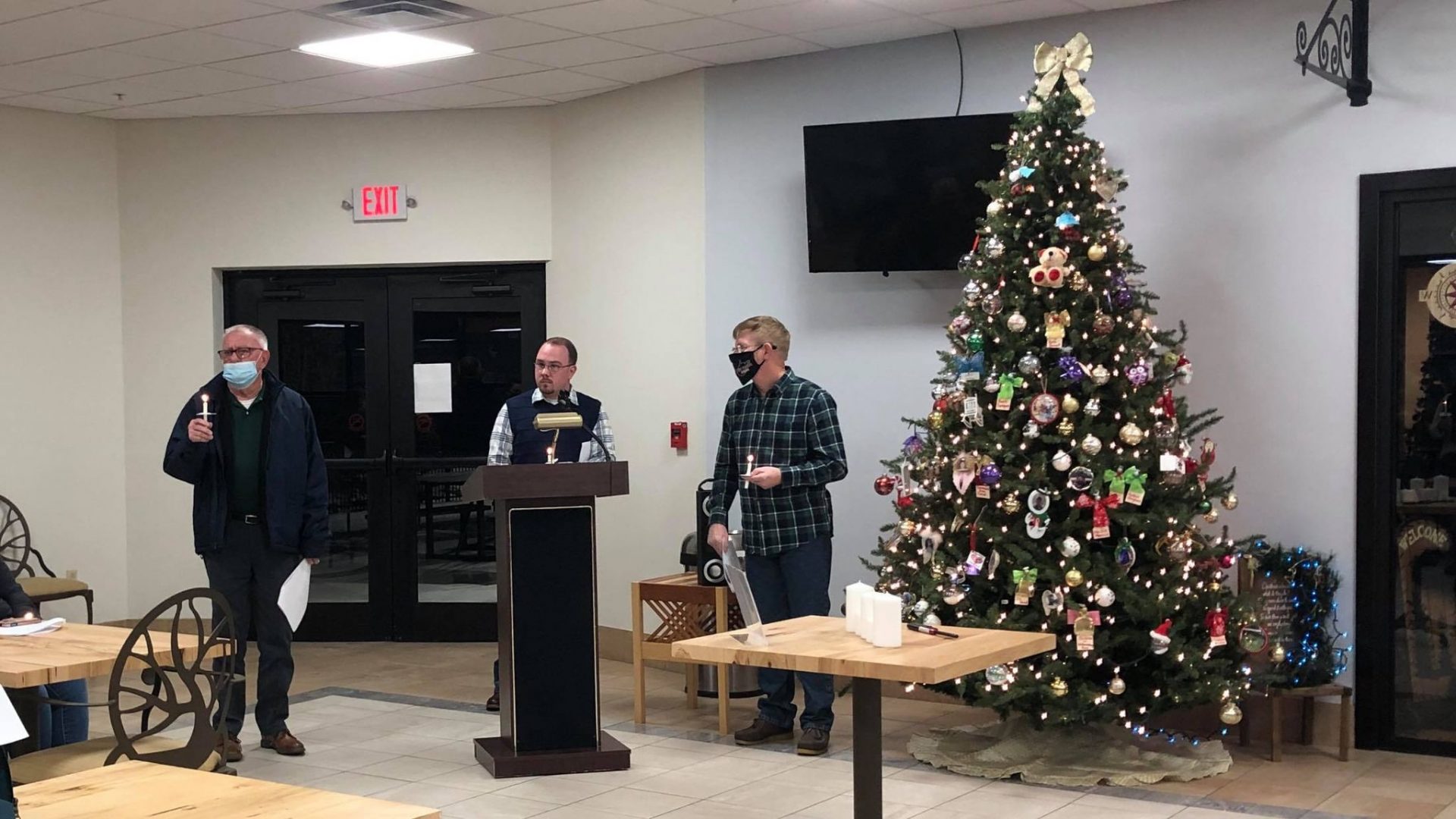 A candlelight service honoring those the Greenbrier Valley has lost over the past year was held on Dec. 26 around the Greenbrier Valley Angel Tree.
"It's awesome that people care enough to come out and honor a loved one," said Roger Honaker, an organizer for the Angel Tree. "I worked in nursing homes for years and it's unbelievable how many loved ones get there and never get a visitor. It's the same when someone dies. … This is a good way to remember … and honor them and keep the flame going."
Although the Angel Tree and candlelight ceremony are typically found at the Greenbrier Valley Mall, the reduced traffic during the COVID-19 pandemic led organizers to place the tree at the Greenbrier Valley Airport this year.
Two local pastors spoke during the ceremony, offering memories of loved ones lost, visions of the future, and condolences for those hurting.
"It's an honor to be here with you, to see the many of you who have been coming down every year," said Kenny Baker. "Those here for the first time tonight, we welcome you. There are many circumstances you could be here for tonight, many have gone on this past year and it seems like our country today has been hit so hard with this virus. Every day, even in our county, many more have left this world."
"Every ornament on this tree represents someone's life," said Joey Terry. "We don't know everybody that's hanging on this tree, but don't you know that God did? God knows each person that's hanging on that tree."
This year, the memories of five children recently lost in a fire in Williamsburg earlier this month were front and center. Affectionately called Team Shark throughout the ceremony, a poem and five-candle ceremony read and lit in their honor.
"As we light these five candles in memory of and in honor of Shaun, Haiken, Aarikyle, Riley, and Kian," Terry read. "We light one for grief, one for courage, one for memories, one for love, and one for hope."
Shaun and Riley Bumgarner's mother, Raven Frisbie, spoke affectionately about the children and read "These Old Shoes," a poem speaking to the memories of those lost and the struggle and strength in those left behind.
"To truly understand these shoes, you must walk in them.
But, once you put them on, you can never take them off.
We now realize that we are not the only ones who wear these shoes.
There are many pairs in this world.
No, nobody deserves to wear these shoes.
Yet, because of these shoes, we are stronger persons.
These shoes have given us the strength to face anything.
They have made us who we are. You and I will forever walk in these shoes,
Because we are someone who has lost a loved one."
The Angel Tree came down on Dec. 29 and will return in 2021.