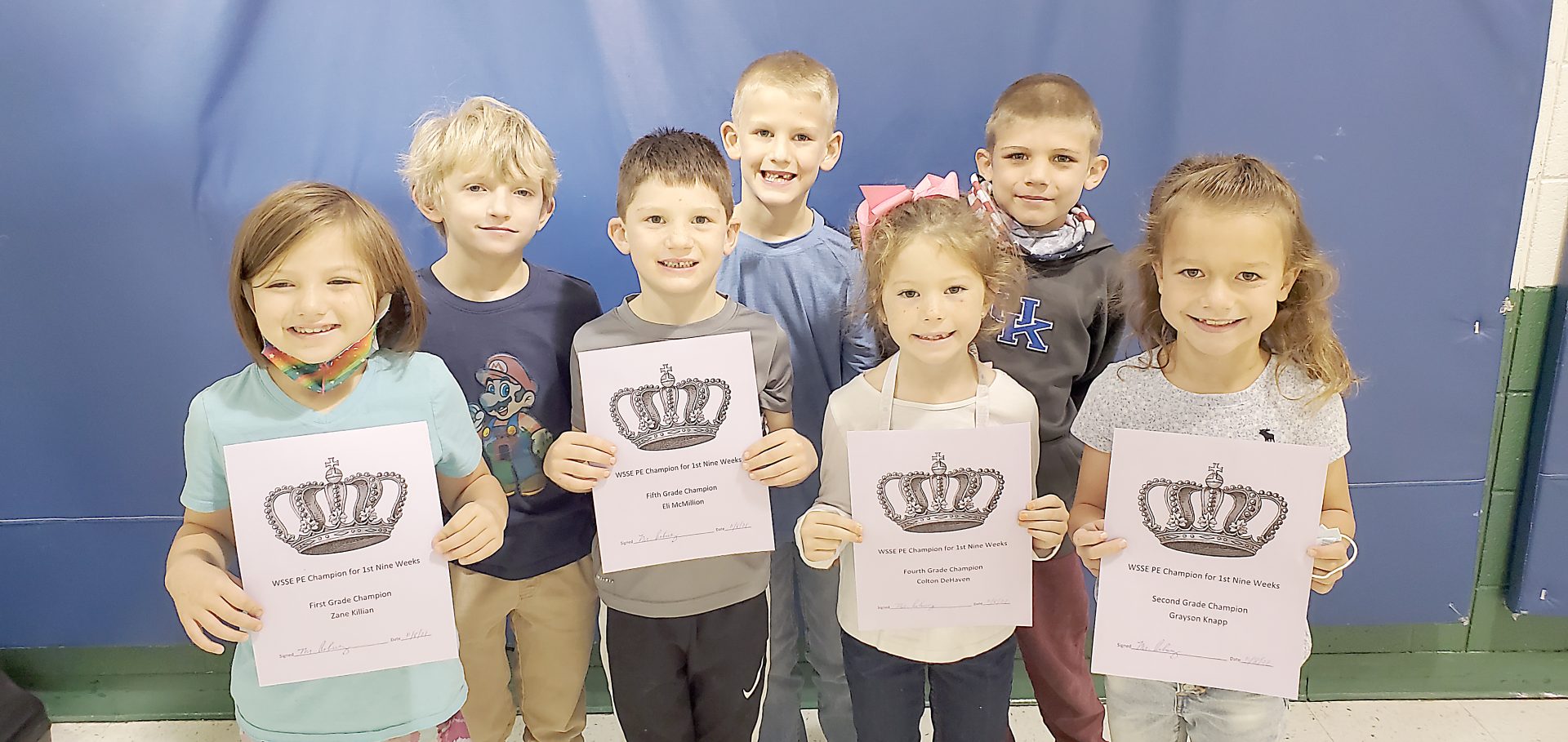 The 12th annual Tooth Fairy 200 meter foot race was held in conjunction with physical education classes at White Sulphur Springs Elementary School. One hundred and seventy-five runners from kindergarten to second grade ran a 200m course around the playground, racing against the clock for sprinters glory. Categories for racers were by grade level with the fastest times for boys and girls being crowned Tooth Fairy Grand Champions.
"This was an idea that was cooked up twelve years ago to get the younger students involved with fitness, hygiene and to tie their own shoes," said Physical Education teacher Tracy Asbury. It worked too as several kids learned to tie shoes during the week. "That's a lot less bending over for faculty and parents, less tripping too."
This year's titles were won by second graders. Henley Anderson won for the third year in a row to take the Boys Grand Champion with a lap of 30.94 seconds and a new all time school record. Henley's blazing lap bested an eight year record set by Isaiah Mattox in 2013. Second grader Addison DeHaven recorded a lap of 37.09 seconds to win the Girl's Grand Champion trophy. 
All students were awarded a special certificate and some gifts while grade level champions received recognition at a school announcements and prizes. 
"With good running times being turned in each year, either the course is shrinking or my students are getting faster," said Asbury. "The thing about this race is that we will have new qualifiers all of the time. The Tooth Fairy is the busiest dude I know of, even busier than Santa and Easter Bunny. There isn't a recession with the Tooth Fairy."
This has become quite the prestigious award for kindergarten to second grade students at WSSES, adding to the saying, "The will to win must be accompanied by the will to prepare."
"All of the excitement and anticipation for the race encourages the younger students to work harder in PE class," said Asbury.
Asbury and the students would like to dedicate this year's race to Ronald Asbury who is battling and winning against cancer. By showing us the courage of how to fight his personal battle with class and dedication, we dedicate the 2021 WSSES Tooth Fairy 200 to him.
The list of winners is as follows:
Grand Champions:
Boy: Henley Anderson, 30.94 sec., 2nd grade
Girl: Addison DeHaven, 37.09 sec., 2nd grade
Kindergarten Champions:
Boy: Paxton Radford, 41.50 sec.
Girl: Joella Craft, 41.63 sec.
First Grade Champions:
Boy: Braxton Honaker, 34.58 sec.
Girl: Emelia Stacy, 40.97 sec.
Second Grade Champions:
Boy: Tobias White, 36.87 sec.
Girl: Paige Ridegeway, 37.46 sec.