By Lyra Bordelon
After a recent back and forth between Governor Jim Justice and West Virginia Secondary School Activities Commission (SSAC), marching bands across West Virginia were first prevented from performing at football games, then were allowed to with ample restrictions on how they can perform. Rather than worry about restrictions on the typically elaborate performances of the Greenbrier East Spartan Marching Band, Director Jim Allder hopes to make a wild, COVID-19 pivot into a unique experience for the musicians and audience.
"We're not limited!" said Allder. "Open your mind and think outside the box. We're creative people, we want people to see our craft. … I think in the marching band, we are creative people and we are problem solvers. I would encourage all of us to take these opportunities to see not how we can cram what we used to do in the same box we used to do it in, but look and see what new opportunities might be out there."
Originally planning to bring back a "revamped and rewritten" show called the Dark Side of Oz, with "cool new visual ideas," COVID-19 pushed pause on plans for the big shows East typically produces.
"We canned that idea because it was just too complex and we didn't have the time or the money," Allder explained. "No school activities, band or athletics, can do the major fundraising that we normally do for a couple of reasons. We don't want people [physically] going out in our community, and … people in the community, businesses in the community are pinched because of the economic issues related to COVID. We didn't want to overtax the community."
Instead, the Spartan Marching Band will be doubling down on the music, performing the show in a diamond formation on the field.
"The music that we are going to be doing this year is really cool, modern bass band music, some funky brass band music," Allder said. "[One example is the] No BS Brass Band, they're out of Richmond. … [The Lucky Chops] do a cover of the 80s tune Funky Town and we're going to do their version. It's really cool, we're gonna have rap in there, funky, kind of jazzy brass stuff, it's going to be fun."
The 2020/2021 school year has changed the marching band experience for each of the students – with the week-long overnight band camp canceled, the band is instead rehearsing in small pods at Greenbrier East High School. Allder cited the students as a model for what good COVID-19 guideline following looks like during the summer band came.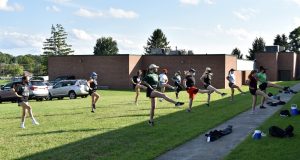 "They go get checked in with a temperature check, they do a screening where they're asked if they've experienced any symptoms in the last 24 hours, if anything has changed from before," Allder said. "… We've been working primarily in pods of mostly 10 or less to try to limit interaction with different people. … When they're not playing, when we have larger groups, everybody's wearing a mask. The instructors, the musicians, everybody."
On August 24, the SSAC announced that the marching band, in addition to not being able to participate in parades and field show competitions, would not be able to play during football games.
"My initial reaction to that was I was upset. … I was confused about why not have the band there," Allder said. "But then, after I calmed down and thought about it a little bit, my reaction was [that] this gives us the opportunity to try something new. Band has always been part of that football game environment, but if that's not going to work out, … then that doesn't mean what we do is over."
The music department, including both teachers and the students themselves, brainstormed ideas about what they could do.
"What can we do to still give students a good band experience?" Allder said. "[The teachers] said 'why don't we come up with a few ideas then toss it back to the students and … give them some ownership in it?' If students have ownership in it, they'll be more motivated to follow through with it, like anybody."
Some of the ideas included playing for nursing homes and retirement communities, where social interaction has been minimized, doing more community reach out such as concerts, and producing studio-quality recordings of sports staples, such as the fight song, Days of Glory, and the National Anthem.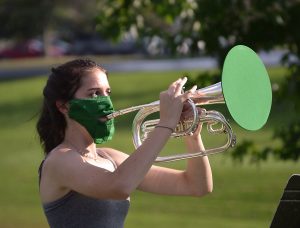 Things turned around again after Governor Jim Justice announced the decision was made "without his input" and directed SSAC to reconsider.
"Obviously our initial reaction to that was 'Oh good, that's a good thing!' but then a document came out of the SSAC that shows [bands would be performing in a] very restricted manner," Allder explained. "I think the feeling there is they want to minimize the amount of potential aerosols coming through the horns at any given time."
When playing, the young musicians will be stationary and abide these guidelines:
• Band members maintain social distancing as per NFHS guidelines (6' x 6' and 9' x 6' for trombone players). A diamond formation is recommended.
• Only the percussion section be permitted to play during the game.
• Face coverings be worn by all band members when not performing.
• Face coverings be worn while performing when possible.
• Use of instrument bell covers when possible.
"We had some prototypes masks made that allow the kids to play their instruments through the masks. It limits the amount of aerosols that would could out of the sides of the mouth," Allder said.
Bell covers and these special masks are already available for brass instruments, while varieties are in the works for many instruments, from flutes to tubas. For woodwind instruments, such as saxophones, entire bags with hand-sized holes were made to contain the aerosols.
Some of the SSAC guidelines apply to more than just when the band plays, but also calls for more separation than expected, such as:
• Designation of a separate seating area for band members (not in the bleachers).
• Designation of a separate seating area for band parents and families.
• Recommendation that band members and families enter and exit the facility separately from athletes and their families when possible.
The Spartan Marching Band is ready to take on these guidelines, having already planned to take a number of safety precautions for both practices and performances.
"Our plan already was to have our band set up behind the endzone, where we would warm up, and hopefully will warm up again next year, with metal folding chairs, physically distanced," Allder explained. "Personally, I think if you look at the precautions that we're taking, the science doesn't really back up those decisions. But that being said, those decisions are made by the secondary schools activities commission with guidance from the state health department, … as far as I'm concerned they can make whatever rules they want and if we're going to be at the games, we're going to follow those rules."
Allder explained the band would be there, supporting East students, school spirit, and the creative energy behind the East music program.
"We'll do what we're allowed to do in the stadium, and we'll do it to the best of our ability to cheer on our teams and our athletics and be supportive with school spirit however we can. Then we're going to look for other ways to expand our creative abilities."