By Lyra Bordelon
"We saw water running off Muddy Creek Mountain and Flat Mountain like none of us have ever seen before," said Alderson Mayor Travis Copenhaver of the Friday, June 19, flash flood that ran through the town. On Saturday, June 20, emergency responders from Alderson, Greenbrier and Monroe counties, the state, the National Guard, and a number of utilities worked to provide relief to residents.
The flooding might have begun quickly and required water rescues, but there have been no reported injuries beyond a scraped knee or two. Most of the damage comes in the form of flooded homes, wrecked infrastructure, lack of power, and road closures. The Alderson Volunteer Fire Department remained awake well into the night, pumping out basements until approximately 4 a.m. on Saturday, June 20.
"We have about 30 affected homes on the Monroe side and about 30 that we're estimating on the Greenbrier side," Copenhaver explained. "The main thing has been water damage in basements. There's potential for about seven to be condemned on the Monroe side. … The homes weren't damaged badly enough that anyone was misplaced [and] had to go [to the town's community shelter. Some stayed] with family or somewhere else for the night, most all stayed in their residences."
Residents with debris remaining inside their home should remove it and place it on the curb as soon as possible – Copenhaver explained the National Guard would shortly be doing trash and rubble removal.
"It needs to be out by Wednesday, so those home in Monroe and Greenbrier side both need to have the debris out of their basements and living spaces, by Wednesday, so we can get that cleaned up," Copenhaver said.
Homes are not the only part of Alderson to be affected – the town's infrastructure will also need repairs, including the roads, power, water, and sewer systems. Crews from First Energy worked through the night and all-day Saturday installing five new power poles along Glenn Ray Road to restore power.
"There are damages to some water infrastructure as a result of yesterday, and some damage to some sewer infrastructure," Copenhaver explained. "We have to figure out how we're going to be reimbursed, either through FEMA, or how we're going to be able to do that. … The power company has been working since yesterday evening and they're hoping that they should have the power back to functional in short order for the customers affected by the outage. … All of our infrastructure for sewer have been running on generator power since the pole went out yesterday. We've not stopped anything, it's all just running on backup power."
Copenhaver noted that the new damage would not set back the town's ongoing repair efforts from the flood of 2016, explaining that the damage is less than either the 2016 or 1996 floods. With sediment build up to clean and repairs to make, the town and its residents got started as soon as they could.
"The worst part always after is the nuts-and-bolts, behind-the-scenes damage assessment and going forward for claims and helping the homeowners on their part and issues," Copenhaver said. "It's always disheartening, we hate when it happens. The most miraculous thing is how everyone puts personal differences aside, comes together, and helps their neighbors out. That outflow for us from other municipalities and from state agencies and from everybody. Neighbors helping neighbors, that's what small town West Virginia is all about. … Watching everybody come together. I couldn't be more Alderson proud than watching neighbor help neighbor and the distance that people come from to help."
The Greater Greenbrier Long Term Recovery Committee wished to thank Lowe's of Lewisburg for donating $1,800 worth of supplies to the committee's clean up efforts, including buckets, bleach, box fans, and personal protective equipment.
To see more images from the Saturday clean up efforts, see the Mountain Messenger's coverage here – https://mountainmessenger.com/repairs-begin-in-alderson-after-june-19-flooding-2/
Alderson regularly updates residents though press releases on the status of the town. See below to read them:
***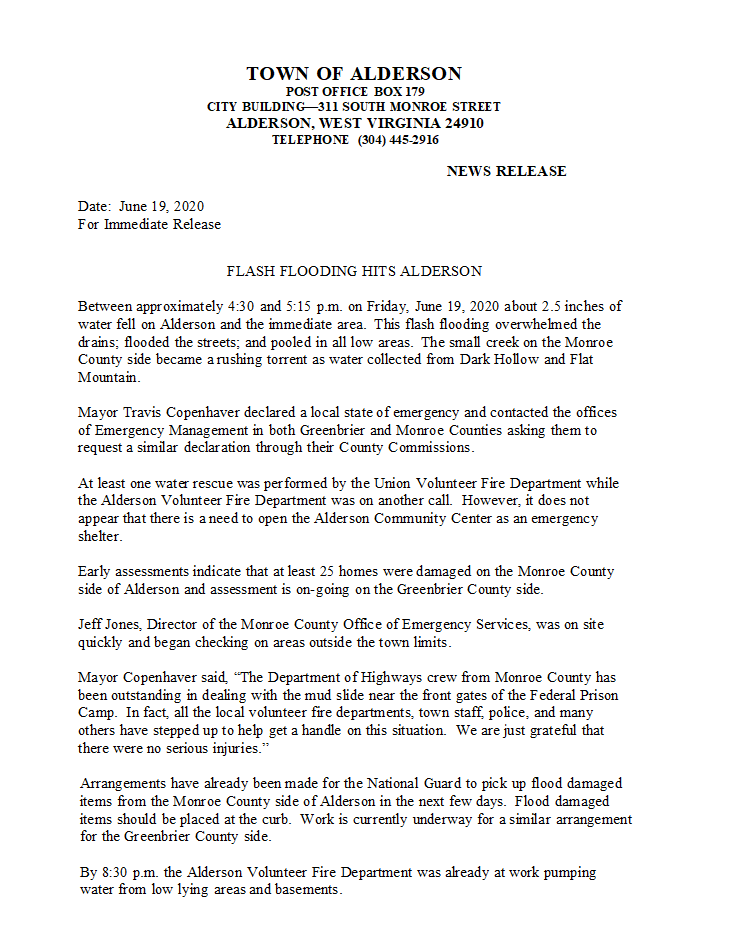 ***