By Lyra Bordelon
Reporting Contributed by Sarah Richardson, Aila Boyd, Jim Hunt, Frances Stebbins
Amid the protests and action demanded in the wake of George Floyd's murder on May 25 in Minnesota, the circumstances of many confederate monuments across the Virginias are being re-examined, with some voicing their discontent with the statues remaining. Residents, opinion columns, and even vandals have made their opinions known on throughout Greenbrier and Harrison counties in West Virginia and Botetourt County in Virginia.
As of Wednesday, June 24, over 900 people have signed an online petition, written as an open letter to Lewisburg City Council and Mayor Beverly White requesting the removal of a downtown confederate monument. In order to celebrate the "memory of our confederate dead," the statue was initially unveiled in 1906 on the front lawn of the New River Community and Technical College campus near Carnegie Hall, but was later moved to Courtney Drive and Washington Street.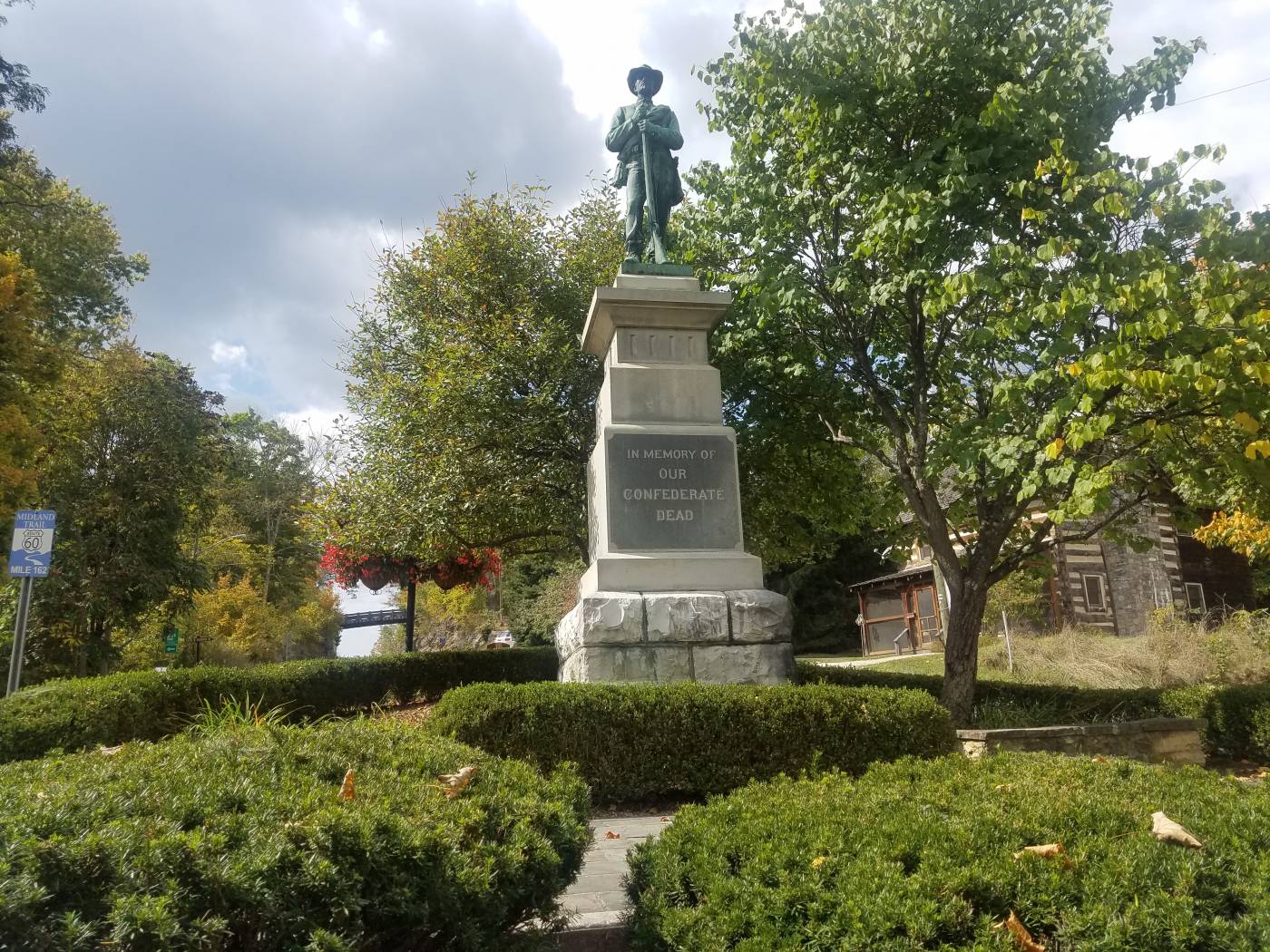 "We are a small town, but a town that takes care of each other, and who do not tolerate hate," reads the open letter. "But for years, a symbol of hate and racial injustice has stood in Lewisburg. A Confederate statue sits next to the former public library. It's original erection was funded by the United Daughters of the Confederacy, a group with known ties to the Ku Klux Klan. … As a community, we will not stand for the continued presence of this statue. It represents the past and present suffering and subjugation of our black, brown, and indigenous people. It is a symbol of Lost Cause ideology, that only serves to intimidate these community members while holding a physical space dedicated to white supremacy. … As West Virginians, it is our duty to place ourselves on the right side of history. We respectfully demand that you take down the statue, and let us breathe easier as we fight for justice."
One of the letter's authors, local organizer Taylor Feury, called for the statute to be moved to the nearby confederate cemetery, where the 95 confederate soldiers from the battles of Lewisburg and Droop Mountain are buried.
"We cannot erase the history; if we erase history we're likely to repeat it," said Feury. "We don't want to see anything happen to the statute besides move it to the confederate cemetery, which honestly would be more beneficial for people who are coming here to learn about history. … There's a lot of people who come here and look for the confederate cemetery and then we can go ahead and add another piece to that, which is the confederate statute, and take it off the streets."
In 2019, Lewisburg entered a new milestone – the election of Beverly White, the first African American woman mayor in the city's history. When asked about the petition, White pointed to the city's efforts with the North House Museum over the past year to place new signage around the statue, putting it in a local context.
"History happened – we can't change it, what we must focus on is how we forward," said White. "We had a peaceful protest of over 300 people and no one was focused on a memorial marker that says 'In Memory of Our Confederate Dead.' They were focused on how we can make Black Lives Matter and Equal Justice and lifting each other up. The city will work with the North House Museum to create interpretive signage to educate our communities not divide our communities. Let's move forward together to hep our children learn and guide them to being adults who want to make a change."
An individual more directly expressed their dissatisfaction with a Confederate monument and cannon in front of the Botetourt County Courthouse in Fincastle, VA. On Tuesday, June 15, an unidentified woman was captured on surveillance video bringing red paint to the courthouse and throwing it onto the monument.
An investigator with the sheriff's department has been assigned to the case.
"We would like to remind all citizens that while peaceful protests are fundamental to our democratic way of life, the destruction of the property is harmful to our community and diverts limited public resources that could provide more benefit when applied to other initiatives," Botetourt County said in a statement.
Erected in 1904, a commemoration on the Botetourt County monument explains it was installed "to commemorate the deeds and service of the twelve volunteer companies that went to the war from Botetourt County." As of Wednesday, June 24, there has been no formal call for the monument's removal.
Less a monument to individual local soldiers than to the confederate states themselves, a monument of General Thomas "Stonewall" Jackson has loomed large over the Harrison County Courthouse since it was built in the courthouse plaza in 1953.
"'How odd,'" thought reporter Jim Hunt, a local to Harrison County. "A statue to commemorate a man who renounced his U.S. military commission and took up arms against his former comrades, killing thousands of American soldiers. As many cities across the country debated removing Confederate statues, I learned that the statue of General Jackson was part of a well-financed effort by a group known as the United Daughters of the Confederacy to assert dominance over African American citizens, fighting for civil rights and access to education. The Harrison County statue was one of over 700 placed in over 31 states."
The Harrison County Commission failed to garner enough votes to remove the statue, leaving it in a prominent place in the county.
"While supporters of the statue have cited 'erasing history' as the reason for keeping the statue, they stumble to explain how an African American should feel, walking into a building, maintained with their tax dollars, that glorifies such atrocious actions. … While the Harrison County Commission will continue to maintain and display the 'Stonewall' statue using tax dollars, Harrison County citizens will continue to be forced to transact their business in 'the people's house' while passing a statue dedicated to a traitor, who died defending the right to enslave human beings. Probably not the image most people want associated with their hometown."
Writing in "Give Light," a spiritual column in the Salem Times-Register, Correspondent Frances Stebbins asked the statues be considered both in their historical context, but also through the modern light many southern Americans look upon them with.
"Metaphorically, [Lutheran Presiding Bishop Elizabeth] Eaton likened the breath taken away from the tortured black man George Floyd to the breath of the Holy Spirit associated with the Creator," writes Stebbins. "She asserted that in the unprecedented outpouring of outrage against police cruelty to some persons of color, whites are at least beginning to "feel the pain" of injustice. I, a white woman reared in a segregated society, now am for the first time experiencing friendship with a black man the age of my granddaughter as we share a mutual liking for news writing. I also value my southern heritage and wish statues that honor that heritage might not be seen as ugly symbols."
The differences between each case, ranging from outright confederate glorification to displays around local soldiers that fought for the confederacy, are nuances for each community to consider as they go forward.