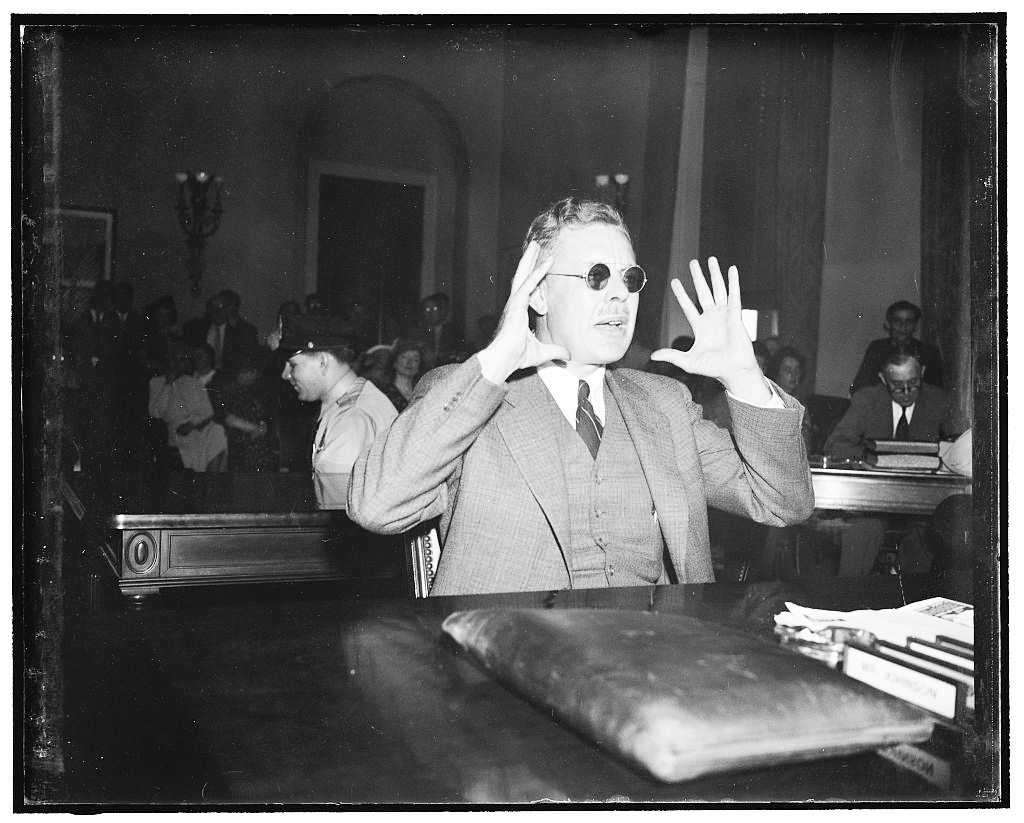 By William "Skip" Deegans
Derrick Evans, the former West Virginia legislator who was convicted for his role in the January 6 insurrection, was not the first West Virginian who wanted to overthrow the government. MSNBC's Rachel Maddow, in her recent podcast Ultra, talks about the subversive efforts of St. Albans construction engineer George Deatherage (shown in this 1939 photo).
In 1935, Deatherage became Grand Commander of the Knights of the White Camellia (KOWC), a racist and anti-Semitic organization. The KOWC was originally founded in 1867 in Franklin, Tennessee, by former Confederate Army Colonel Alebiades DeBlanc. Its members pledged to support the supremacy of the white race.
It was organized much like the Ku Klux Klan. Where the Klan drew its membership from lower class southerners, the KOWC consisted of upper class members and was better organized than the KKK. The KOWC's tactics included harassment, floggings, and sometimes murder. The KOWC opposed "scallawags" or white men who believed that all men are born equal and entitled to equal rights and privileges in the United States. It imposed a reign of terror in the south, but eventually disappeared until Deatherage resurrected it in West Virginia.
In an effort to unify various American fascist organizations, Deatherage also founded the American Nationalist Confederation that described itself as the "official organ of the fascist party in America" and used a swastika as its emblem on press releases. He described fascism as a "patriotic revolt such as the revolt of the White Russians against Jewocracy." Deatherage opposed the Roosevelt administration and wrote, "I believe it will take military action to get (Roosevelt) out," and proposed persuading officers in the U.S. Army reserve to take key positions in a fascist army.
Deatherage was investigated by the FBI, brought before a Congressional committee investigating un-American activities in 1939, and indicted in 1943 for organizing a nationwide conspiracy to undermine the loyalty of American troops. He slid into obscurity but popped up again in the 1960s in support of the John Birch Society and for promoting conspiracy theories. He died in 1965.
The Knights of the White Camellia also faded into history until the 1990s when a Texas Ku Klux Klan chapter adopted the name.
Photo from The Library of Congress.
Sources: The Evening Star, Time, Saturday Evening Post, Nashville Banner, Texas State Historical Assn., California State University, FOIA documents.