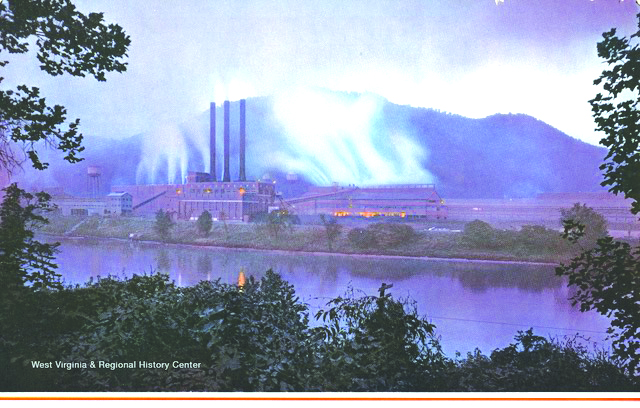 By William "Skip" Deegans
Driving from the Greenbrier Valley to Charleston along U.S. 60, Fayette County's Glen Ferris provides the traveler the first indication of reaching the industrialized Kanawha Valley. The cluster of brick buildings beside the dam and impoundment are clues of the town's industrial heritage. It was here in 1898 the Wilson Aluminum Company built a factory to produce ferro-metal alloys with ore from South Africa. The dam allowed the plant to harness water to generate electricity for electric furnaces. It has been reported that raw materials from New Caledonia in the South Pacific were shipped to the plant to produce armor plate that was used by Japan to build warships.
The Wilson Company was purchased by Union Carbide that established the Electro-Metallurgical Company. In the 1930s, a new, larger plant was built down river in Alloy (shown in the 1945 photograph). To power the plant, the Hawk's Nest Tunnel was dug to propel river water to turn a turbine to provide electricity for the plant. At the time it was built, the turbine produced 100,000 horsepower and was the largest in the United States. Construction of the tunnel, however, resulted in one of the worst industrial disasters in West Virginia's history.  Miners drilled through rock heavily embedded with silica, and the dust which caused silicosis killed 764 miners. Most of the miners were African-Americans.
Union Carbide produced mostly ferroalloys at the Alloy plant until 1981 when Elkem Metals took it over and shifted production to ferrosilicon, an alloy of iron and silicon.
The plant is now owned by Ferroglobe, the world's largest producer of silicon metal. The metal is used to manufacture silicon wafers for photovoltaic solar cells and electronic semiconductors.
Photo: courtesy of the West Virginia University Regional History Center.
Sources: West Virginia Historical Society, National Park Service, The Messenger (Beckley), The Independent Herald (Hinton), The Weeky Register (Point Pleasant), Shepherdstown Register, West Virginia Public Radio.