By William "Skip" Deegans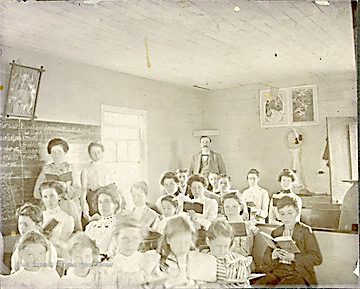 Shown in this week's photo from the late 1800s is the Pickaway School in Monroe County. Standing in the rear of the classroom is, Charles A. Keadle (1864-1939,) a teacher and county school superintendent. Keadle started the first Corn Club in Monroe County. Founded in 1900, Corn Clubs were organized in schools to encourage the use of better farming techniques and to grow new varieties of corn. More than just that, the clubs were meant to foster a sense of community, develop a work ethic, increase school attendance, create teamwork, and increase enrollment in agricultural colleges. The clubs were imminently successful and spread throughout the country. In 1917, the Hinton Daily News reported the average production of corn for West Virginia was 26 bushels for the years 1915-1917. During the same period, Corn Club participants averaged 70 bushels per acre.
Membership in the clubs was limited to boys, but the girls saw the success and fun the boys were having and wanted in. Some folks questioned whether girls could do the hard work required, and the USDA suggested other activities better suited for girls like growing tomatoes. Tomato clubs were formed, but by 1912 the Corn Clubs became coeducational. Other clubs like the pig club, poultry club, canning club, and sheep clubs were organized. Eventually, the clubs evolved into the 4-H program.
Photo: Courtesy of the West Virginia University Regional History Center
Sources: North Carolina State University, University of Massachusetts, Hinton Independent-Herald, Hinton Daily News.