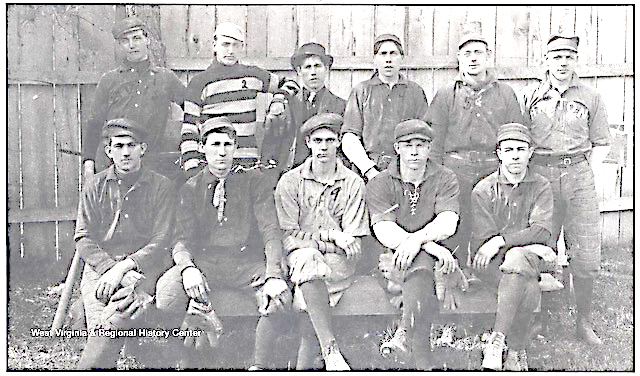 By William "Skip" Deegans
Shown in this circa 1904 photo is Hinton's C&O Railroad Baseball Team. In the early 1900s, baseball was a popular pastime in southern West Virginia. In addition to the railroad, many coal mining companies sponsored teams. The Hinton team played other railroad teams in Clifton Forge, Staunton, and Harrisonburg. They also played Alderson's Camp Greenbrier team. It is likely the players were sons of the first wave of coal miners and railroaders who came to New River in the late 1800s. Some of those first miners came from Europe and the British Isles. The two Turner men in the photograph were probably sons of the Turner families that immigrated from Scotland and went to Sewell, a New River mining town. There were enough boys in the families to form their own baseball team called the "Turner Nine." 
Southern West Virginia players were good enough to be scouted by the major league teams. In 1906, Hinton's John "Jack" Warhop (shown in the photo) signed with the Freeport Pretzels, a Wisconsin minor league team, and pitched its first no hitter. Eventually, he landed on the New York Highlanders (later named the Yankees). In 1915, a pitch in Boston's Fenway Park from Warhop to Babe Ruth of the Red Sox yielded Ruth's first home run. Despite that pitch, the Highlanders won the game. 
The players in the photograph beginning in the back, from left to right, are: Ervin Maxwell, Joe McCarthy, John Warhop, Oscar Whitlock, Will Turner, Bob Turner, Arthur Sydney, Elvin Wise, Harry Starbuck, George Secrest, and John Hobbs.
Photo: Courtesy of the West Virginia University Regional History Center.
Sources: Hinton Daily News, Hinton Independent-Herald.