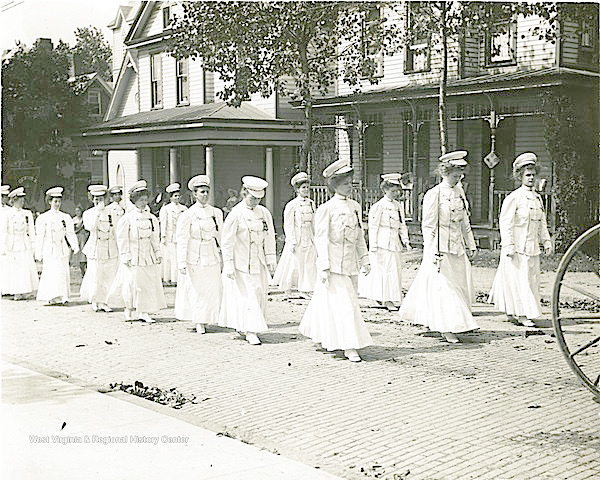 By William "Skip" Deegans
Had the ladies in the above photo had their sway, readers might not have a wee bit of spirits to usher in the new year – at least not legally. The undated photo shows the Morgantown chapter of the Women's Christian Temperance Union (WCTU) marching down Spruce Street. Founded in Cleveland in 1874, the WCTU's main mission was the prohibition of alcohol. The West Virginia WCTU was formally organized in 1883, but it may have been active in the northern panhandle as early as 1877.
The temperance movement began in West Virginia well before statehood. The movement was fueled by the Methodist Church that was later joined by the Presbyterian and Baptist churches. As West Virginia became more diverse with Europeans and southern African Americans migrating to the state to work in coal mines, on the railroads, and at manufacturing plants, interest in prohibition waned. Catholics, especially, opposed it. The WCTU, however, persevered, and in 1919 Congress passed the 18th Amendment to the Constitution that authorized the national prohibition of alcohol. The legislation failed miserably, and in 1933, West Virginians repealed national prohibition.
While the WCTU was ultimately unsuccessful, women who were active in the movement developed lobbying skills and became politically active. One might argue that the WCTU was an important contribution to the women's rights campaigns.
Photo: Courtesy of the West Virginia Regional History Center.
Sources: National Archives; Vending Vice: The Rise and Fall of West Virginia State Prohibition 1852-1943 (WVU thesis) by Michael J. Buseman.