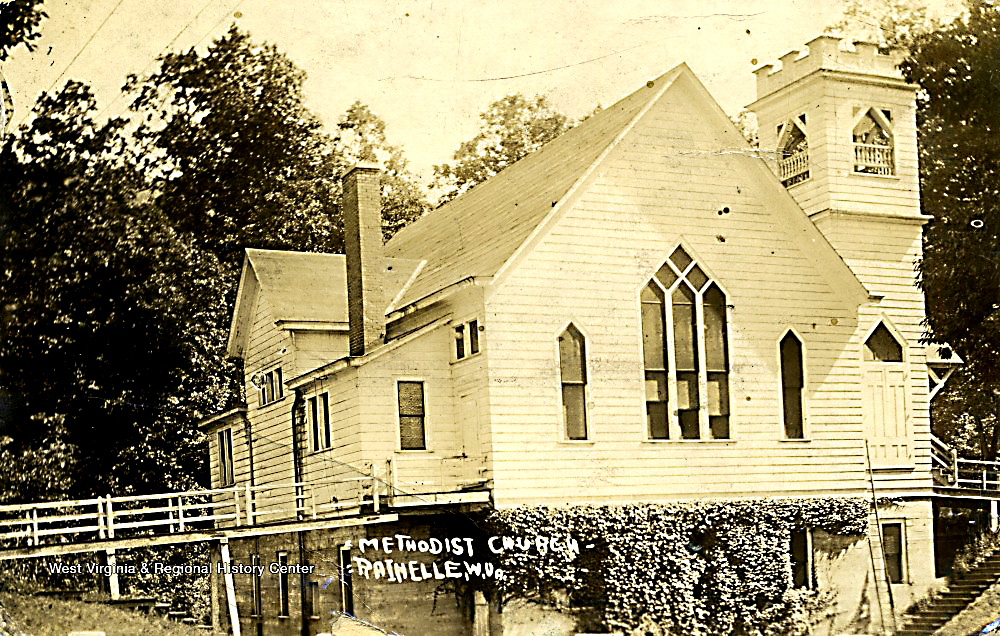 By William "Skip" Deegans
During the start-up of Rainelle's Meadow River Lumber Company in the early 1900s, church services began in an empty railroad box car and then moved to a lumber shed. Once the first school was built, services were held in the school basement. In preparation of building a church, the company owners – who were Methodists – polled their workers to determine the denomination of the church. The results of the poll were: (1) Methodist Episcopal (North), (2) Methodist Episcopal (South), (3) Presbyterian and (4) other denominations. According to the late W. R. (Rip) Johnson, long-time resident of Rainelle, there may have been some politics involved in the polling.
Under the supervision of the Rev. William Coleman, the church was constructed in 1913-1914 and dedicated as the Rainelle Methodist Episcopal Church on June 18, 1914. The initial building consisted of a sanctuary and fellowship hall. In 1930, the church expanded when 22 social and educational rooms were added. The church was built of American chestnut lumber, and may be the largest building in the world constructed of this material.
Following unification of the Methodists in 1968, the church became the Rainelle United Methodist Church. This important landmark was nearly lost in 1995 when a fire broke out. Fortunately, three young girls who were walking by saw smoke and summoned help. A near catastrophe was averted. 
Photo: Courtesy of the WVU West Virginia & Regional History Center.
Sources: Greenbrier Historic Society, The Independent-Herald (Hinton), Images of Rainelle by Browning, Pendleton and Shelton.