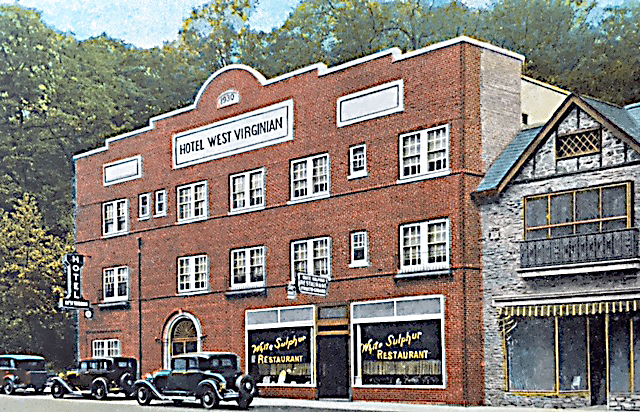 By William "Skip" Deegans
Built in 1930 and located at the west end of Main Street, the Hotel West Virginian was a prominent White Sulphur Springs landmark. The hotel and restaurant were built by Theodore and Maria Soures. Theodore immigrated from Chios, Greece in 1907 and arrived in New York with $24. By 1920, he lived in a White Sulphur Springs rooming house and was employed as a hotel pantry steward. Maria Argyrakis immigrated from Chios in 1922 and joined her brother, Nicholas, in White Sulphur Springs. Theodore and Maria married in 1923, and the following year they purchased the property where the hotel was later built. After the hotel was completed, Theodore and Maria lived there and raised two daughters, Nicha and Fifi. Theodore died in 1953, and Maria died in 1979.
In 2003, The Greenbrier Resort purchased the hotel and adjacent buildings and razed them.
Postcard courtesy of Greenbrier Historical Society.
Sources: The Greenbrier Independent, Census and immigration records.