By William "Skip" Deegans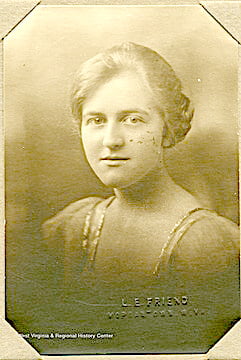 This is a photo of Margaret (Maggie) Ballard when she was in her early 20s. She was born in 1900 in Greenville, Monroe County, and attended Alleghany Collegiate Institution in Alderson and West Virginia University. She was one of the first women to earn a medical degree from the University of Maryland. She practiced obstetrics and gynecology in Baltimore and served on the faculty at the University of Maryland Medical College.
When she retired, Dr. Ballard returned to Monroe County where she turned her interest to local history. She was a founding member of the Monroe County Historical Society and exhibitor at the annual Mountain State Crafts Fair. Well known for her spoon bread, her recipe may be found in Mountain Measures, a cookbook published by the Charleston (WV) Junior League. Dr. Ballard died in 1976.
Photo:  Courtesy of West Virginia University Regional History Center.
Source: West Virginia Public Radio.