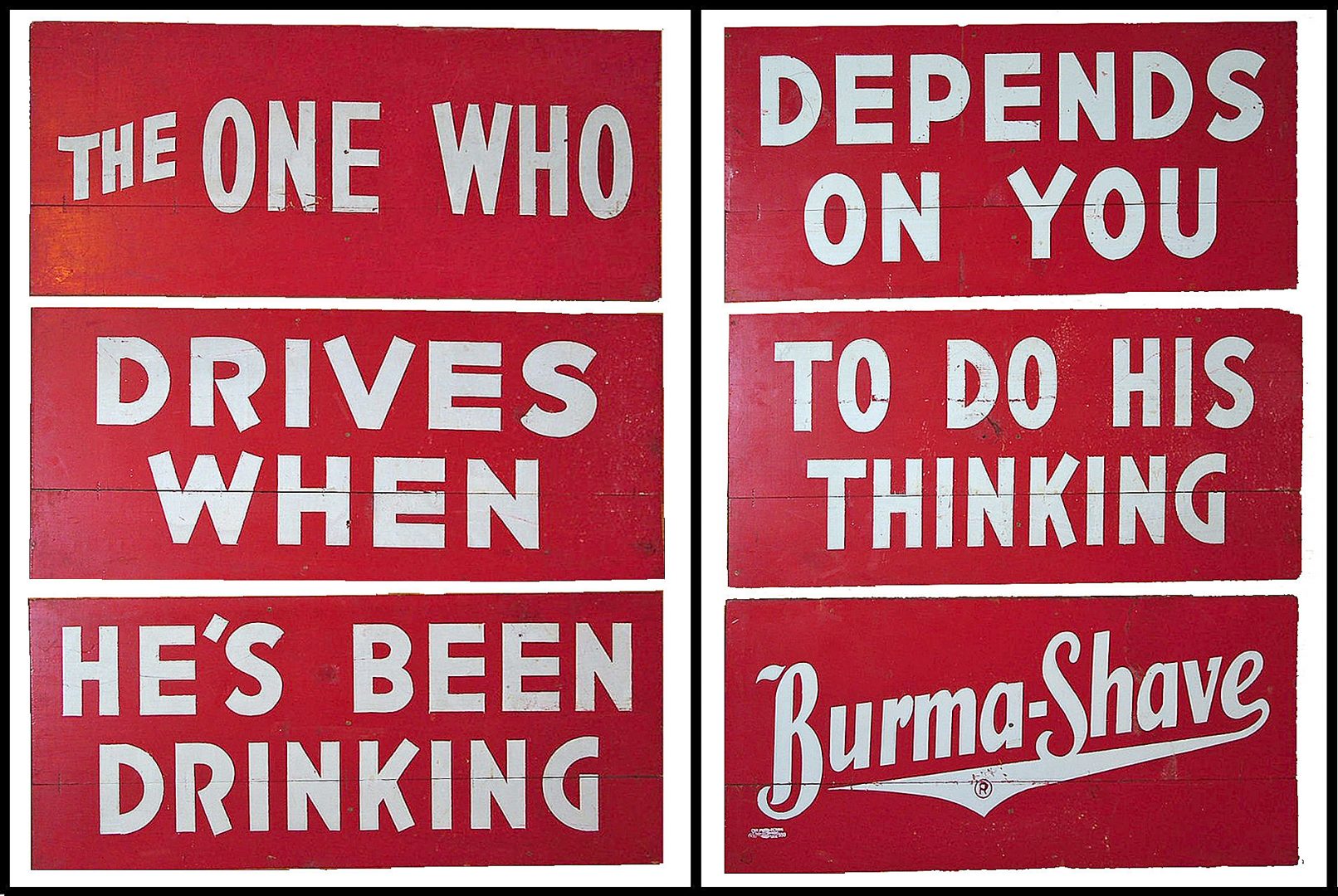 By William "Skip" Deegans
Older fairgoers who traveled along Rt. 60 from the west may remember the Burma-Shave signs beside the road. They were near Milligan Creek (almost across from the Mail Pouch barn sign). Burma-Vita, a liniment, was developed in Minneapolis by Robert Odell in the early 1900s. The product was named after the country Burma (now Myanmar) because three ingredients came from there.
The product was not selling well, and Odell's son Clinton, came up with the idea in 1925 of developing a brushless shaving cream that was named Burma-Shave. It wasn't selling very well either, and Clinton's son, Allan, talked his father into giving him $200 to create road signs promoting Burma-Shave. He painted six boards and placed them 100 feet apart along the side of the road. This was in the early days of automobile travel so cars did not travel very fast allowing the motorist and his passengers to read the signs.
The promotion worked, and by 1930 Burma-Shave was the second highest selling brushless shaving cream on the market. There were some 6,000 signs in 48 states. In 1930, the company started a contest for ideas for jingles. Some years the contest garnered 50,000 entries, and winners received $100. Some of the signs, such as the one shown in this week's photo, were public service announcements. Many, however, were humorous. A favorite:
BEN MET ANNA
MADE A HIT
NEGLECTED BEARD
BEN-ANNA SPLIT
BURMA-SHAVE
In 1963, Burma-Shave was sold to Philip Morris, and the signs were removed. Shortly afterwards, Burma-Shave ceased production.
Photo from the Smithsonian Institution.
Sources: Minnesota Historical Society, Chicago Tribune, NPR.