By William "Skip" Deegans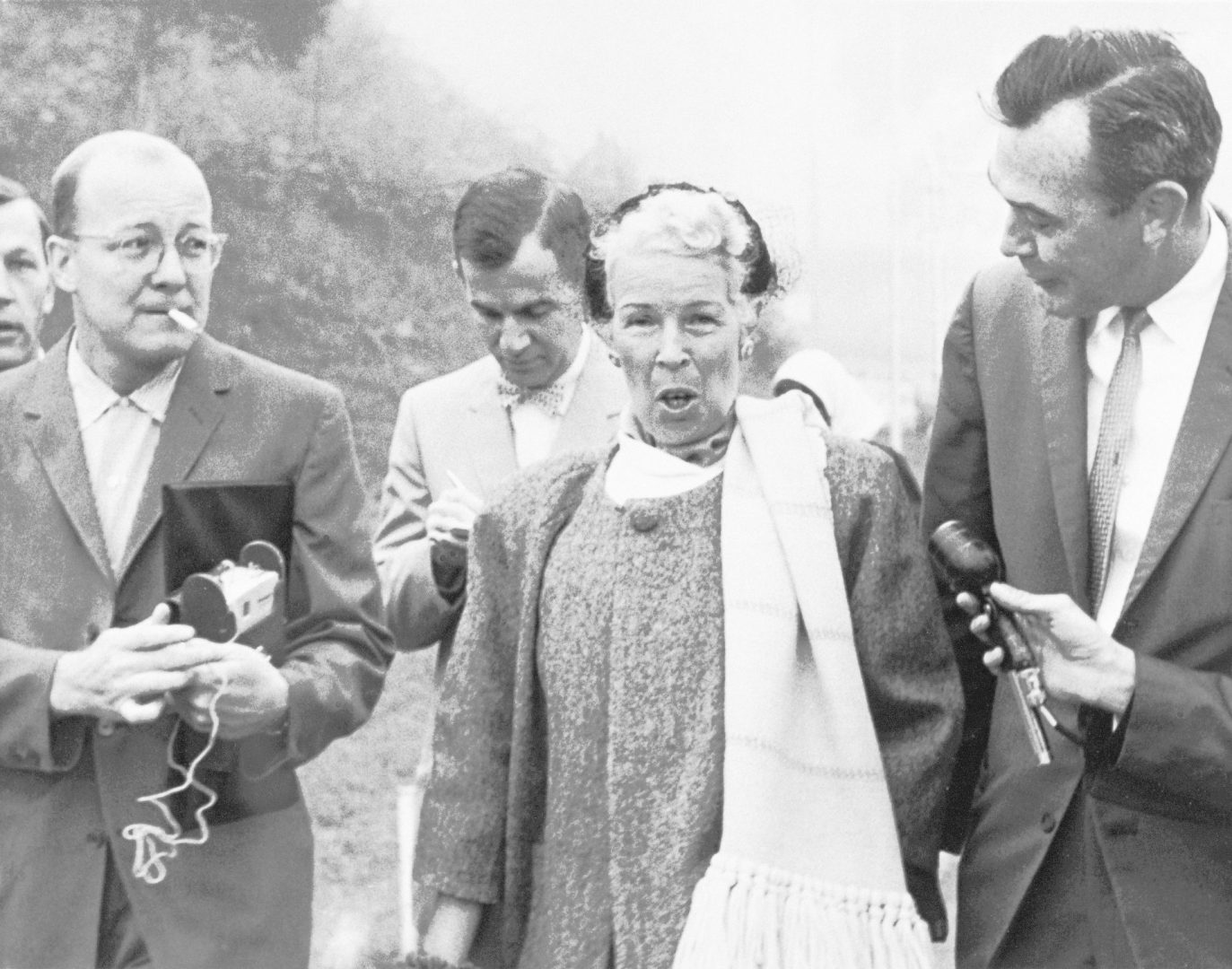 This week's photo shows Mildred Gillars when she was released from the women's federal prison in Alderson on July 10, 1961. From left to right are Roger Mudd (CBS), Don Marsh (The Charleston Gazette), Gillars, Dick Toren (UPI), and Jack Davis (AP).
Nearly long forgotten, Gillars has popped back in the news recently as a movie and book about her were released. Most disturbing, however, is her resurrection by white supremacist hate groups. Gillars was born in 1900 in Portland, Maine. She had aspirations of becoming an actress and studied drama and acting at Ohio Wesleyan University. She left the university without a degree to pursue acting in New York City. While a struggling unsuccessful actress in Greenwich Village, she had a love affair with Max Otto Koischwitz, a married Hunter College professor of German. Later, she left for Algiers with a British man. The relationship did not last, and she found her way to Berlin, Germany, where she worked teaching English and writing for Vanity Fair.
Koischwitz, still married, had moved to Berlin, where he and Gillars rekindled their relationship. In 1940, Gillars took a job with the German State Radio Corporation. Koischwitz was put in charge of the Nazi radio propaganda broadcasts that targeted U.S. troops during World War II. Koischwitz encouraged Gillars to broadcast programs undermining the morale of American soldiers. Known by the troops as "Axis Sally," she blamed the war on Britain, Franklin Roosevelt, and the Jews and encouraged the troops to stop fighting. Underlying her broadcasts were corrosive anti-semitic propaganda. She suggested U. S. soldiers were risking their lives while men of deferred status back home were taking their jobs and women. Her programs were immensely popular because she played big-band American jazz.
After the war, Gillars was captured in 1946 and brought back to the United States to face trial in 1948 for treason. With scarlet lips and nails, long flowing silver hair, a deep tan, tight-fitting long black dresses, and spiked high heels, the public and press found Gillars fascinating. On March 25, 1949, she was sentenced to 10-30 years in prison. While in prison, she converted to Catholicism and was released after 12 years. The warden at the Alderson prison said Gillars was a cooperative and helpful inmate. She returned to Ohio to teach in a convent and graduated from Ohio Wesleyan with, ironically, a degree in speech. She died in 1988.
Photo: Courtesy of the Frank Wilkin collection, West Virginia Department of Culture and History.
Sources: The Charleston Gazette, New York Times, Smithsonian Magazine, New England Historic Society, The Last Archive podcast.