By William "Skip" Deegans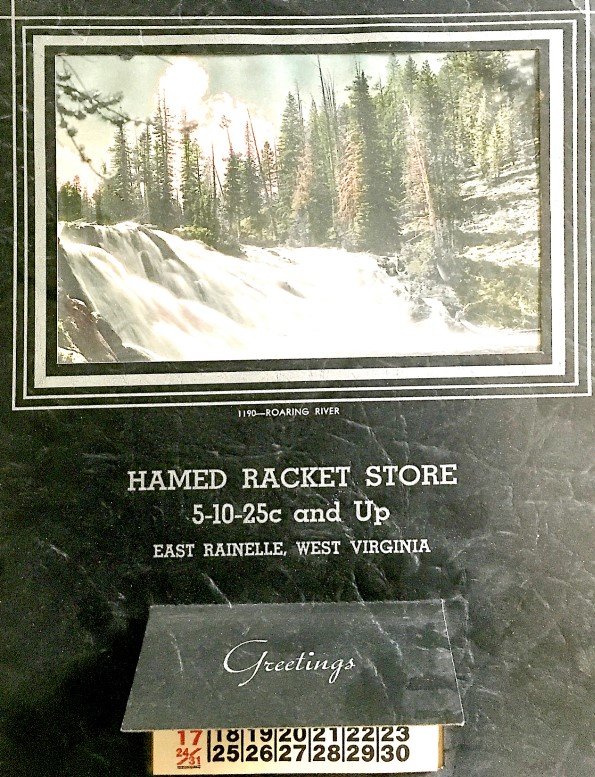 A 1937 promotional calendar for the Hamed Racket Store in East Rainelle is shown in this week's photo. A racket store was an early type of discount store that was sometimes started by former pack peddlers. "Racket" referred to the noise pots and pans made as the peddlers traveled from house to house selling their goods. Usually, the peddlers were enterprising first-generation Americans. One of the most successful of these stores was the New York Racket store that was founded in 1888 in Monroe, North Carolina, by William Henry Belk. Belk came up with the store's name to give it more pizazz. His store evolved into the Belk department stores with nearly 300 stores in 16 southern states.
The Hamed Racket Store, a dry goods business, was operated by Faris and May Hamed. Born in Syria, Faris immigrated to the United States in 1905 when he was 17. His wife, Virginia May Woolwine, was born in Alderson. Apparently, they prospered as by 1930 they owned their home valued at $3,000. Faris died in 1954, and May died in 1972.
Sources: Beckley Post-Herald, U. S. Census, North Carolina Department of Natural and Cultural Resources.