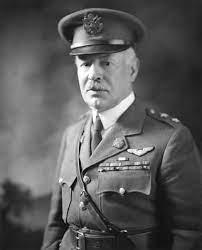 By William "Skip" Deegans
Mason Patrick may have been the first Greenbrier Countian to be featured on the cover of Time Magazine (July 9, 1923). Born in Lewisburg in 1863, he was the son of Dr. Alfred Spicer Patrick and Virginia Mathews Patrick. His father had been a surgeon in the 22nd Infantry of the Confederate States Army and afterwards served in the West Virginia House of Delegates and Senate.  Patrick's uncle was Henry Mason Mathews, the fifth Governor of West Virginia.
Patrick was educated at Lewisburg Academy and Lewisburg public schools. In 1886, he graduated second in his class at the U. S. Military Academy. Following graduation, he served in the U. S. Army as an engineer on several rivers in the eastern United States and returned to West Point to teach engineering. In 1917, he sailed to Europe to command the 1st Regiment of Engineers in World War I and was in charge of numerous engineering operations in France. 
The Army's Air Service was in disarray, and in 1918 General Pershing, a classmate of Patrick at West Point, named him chief of the Air Service of the American Expeditionary Force with the rank of major general. According to the Department of Defense, "Patrick knew nothing about aviation, but had tremendous organizational skills, extensive experience with large organizations and a commanding presence." 
Under Patrick's leadership, the Air Service set numerous speed, distance and altitude records. The Air Service evolved into the Air Corps and then the Air Force. Patrick retired from the Air Corps in 1927, and in 1929 he was appointed head of the Public Utilities Commission for the District of Columbia. Major General Patrick died in 1942 and is buried in Arlington National Cemetery. In 1950, Florida's Patrick Air Force Base was named in his honor.
Photo from the United States Air Force.
Sources: United States Air Force, United States Department of Defense, Greenbrier Independent, The Old Lewisburg Academy Pupil Lists by Morgan Donnelly Bunn.