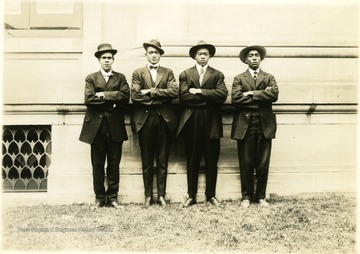 By William "Skip" Deegans
The above photo shows a group of West Virginia African American World War I draftees. When the United States entered the war, southern Democrats opposed the conscription of African Americans. They feared that soldiers who fought for democracy in Europe would return home feeling entitled to civil rights in their own country.
Believing in the cause, African Americans wanted to serve in the United States military. In dire need of soldiers, the opposition by southern politicians fell by the wayside as African Americans were allowed to be drafted. While some 200,000 African Americans were deployed to Europe, most of them had support jobs or served in labor battalions. Thirteen percent of all active duty soldiers in the war were African American, but only seven tenths of one percent were officers.
To accommodate the drafted African Americans, separate barracks and facilities were built on military bases in what Duke Professor Adriane Lentz-Smith describes as the "Jim Crow Army." Among the first African Americans to volunteer to go to Europe were draftees from West Virginia who were sent to Fort Lee in Virginia and shipped out two weeks after arriving on the base. The U. S. Army's 93rd Division was the sole African American unit, and its 369th Infantry Regiment was assigned by General John Pershing to the French and warned not to treat them the same as white troops. The French ignored the advice and embraced the soldiers. Serving alongside the French, the 369th resisted German forces on the front lines for 191 days. They never surrendered any Allied territory, and none of their soldiers were captured. For their gallantry, 171 officers and men received either the Croix de Guerre or the Legion of Merit from the French government.
Returning home from the war, African American soldiers were disillusioned when they were not treated as equal, and racial violence spread through the south during the summer of 1919. Called the "Red Summer," there were several instances of African American men lynched in their military uniforms. The unrest exploded in 1921 during the Tulsa, Oklahoma race massacre when 35 blocks of the African Community were destroyed.
Photo courtesy of the West Virginia University Regional History Center.
Sources: Hinton Daily News, Oxford African American Studies Center, National Archives, National Park Service, Equal Justice Initiative.