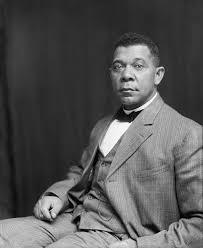 By William "Skip" Deegans
Booker T. Washington (pictured), former West Virginian, educator, and leader of the Tuskegee Institute in Alabama, was the first African-American to dine with a President in the White House. In 1901, Washington was the dinner guest of President Theodore Roosevelt, his family, and one other guest. When news of the dinner became public a firestorm erupted in the southern United States. South Carolina's Democratic U. S. Senator Benjamin Tillman said, "If it is the purpose of the president to solve the race question in this way, he is welcome to enter upon it, but millions of American men and women of the north and all the whites who live in the south will leave him severely alone in his new-found role and take care we do not become a race of mongrels." Politician and white supremacist, James K. Vardaman, who later become governor and U. S. Senator of Mississippi, said "I have hoped that he (Washington) was too much of a gentlemen and had more regard for his own self-respect than to associate with a white man who had no more decency to take a [sic] into his home." The Rev. W. D. Hubbard, pastor of North Carolina's largest Baptist church, said "There is but one opinion in the great south, and that is regret, disappointment, and contempt."
Northern newspapers, churches, academics and religious leaders, particularly in the north, promptly responded to defend Roosevelt. The Lawrence (Kansas) Daily Journal wrote, "If Tillman has ever been right on any question, political, religious, moral or social in his whole life there is no record of it." The Abilene Weekly Chronicle wrote, "Any man who allows himself to be influenced in the direction to which Tillman alludes is blacker internally than the colored man is externally. Tillman may admit his own weakness if he will, but he has no right to infer that all men are like himself."
Shortly after the White House dinner, Roosevelt and Washington dined again with the president of Yale University during Yale's bicentennial celebration. Both men received honorary degrees then from Yale. In 1900, Harvard University had already conferred an honorary degree on Washington. While the Roosevelts and Washington were dining together at the White House, Washington's daughter, Portia Washington, was a student at Wellesley College. Alex McVeigh Miller, in an op-ed in Ronceverte's The West Virginia News pointed out that Washington had been entertained at Windsor Castle in England and took tea with Queen Victoria.
Photo from Wikimedia Commons.
Sources: The Virginian-Pilot, The Semi-Weekly Messenger (Wilmington, NC), Atlanta Journal, Lawrence Daily Journal (Kansas), The Abilene Weekly Chronicle, Chicago Tribune.