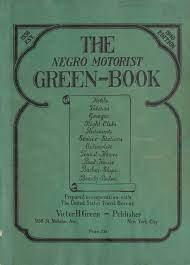 By William "Skip" Deegans
In Greenbrier Valley Theatre's recent production of Alabama Story, Joshua Moore – an African-American ginger ale salesman – drove his Buick from Detroit to Montgomery, Alabama where he volunteered as a civil rights worker. The story takes place in 1959, a time of segregation when African-American travelers could not stay in most hotels or eat in most restaurants. Moore told his childhood friend, Lily Whitfield, that he used the Green Book to enable him to find lodging during his drive back and forth to Montgomery.
First published in 1936, the Green Book listed by state and city lodging, the restaurants and some services that would accommodate African-Americans. Most lodging consisted of guest houses. Greenbrier County's listings included three guest houses in White Sulphur Springs: Brooks and Haywood Place, both on Church Street, and Slaughter's on Virginia Avenue. It is likely these three guest houses provided lodging for drivers and other servants of guests at The Greenbrier. The only restaurant listed was the Traveler's Inn in East Rainelle. The Green Book was published annually, and in the 1950 edition, the editor wrote, "There will be a day sometime in the near future when this guide will not have to be published. That is when we as a race will have equal opportunities and privileges in the United States. It will be a great day for us to suspend this publication for then we can go wherever we please, and without embarrassment."
African-Americans were not the only travelers who were challenged to find safe and welcoming accommodations. In 1917, "The Jewish Vacation Guide" was first published. Printed on the cover was "Hotels, Boarding And Rooming Houses Where Jews Are Welcome." It was this vacation guide that inspired publication of the Green Book.
In 1964 President Lyndon Johnson signed the Civil Rights Act that banned segregation in restaurants and hotels. The Green Book ceased publication in 1967.
Cover photo from Wikimedia Commons.
Sources: Green Book, Merrimack Valley Havurah, National Park Service.