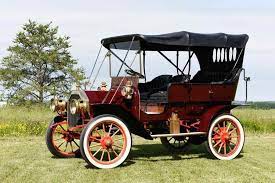 By William "Skip" Deegans
Was Kent Snyder's Buick Model F (pictured here) the first automobile to roll into Lewisburg? Well, perhaps. Snyder's arrival in Lewisburg in 1908 was something of a holiday for the townsfolk. According to the The Charleston Gazette, everybody turned out to "give the all-fired contraption the once over. They came and they saw. They piled into the machine and around it until it was as a beehive covered with a swarm. They saw it wheeze down the pike at the terrific speed of 15 miles an hour."
Once the dust settled, a conflict between the automobile and a town full of horse and buggies became obvious. The mayor took charge, and the city imposed an ordinance restricting Snyder's Buick to a maximum of 6 miles an hour. Snyder protested and pointed out his car couldn't go that slow. The mayor relented and raised the speed limit to 10 miles an hour. Despite the speed restrictions, the Buick continued to be a nuisance with Synder getting bills for demolished buckboards and buggies from run-away horses.
When Synder visited the Old White (predecessor to The Greenbrier), he was instructed to park behind the hotel to avoid annoying the guest's horses.
The Buick Model F was powered by a 2 cylinder, 22 h.p. engine and had a two-speed manual transmission. Interestingly, it had a tilt steering column. The car cost $1,000 new ($32,700 in today's dollars). Buick sold 8,820 cars in 1908 making it the world's largest producer of automobiles.
But was Synder's Buick Lewisburg's first car? It was reported that John W. Dwyer owned the first car in the county – an Oldsmobile gas runabout. He drove it from Lewisburg to Ronceverte where it remained for some time because it didn't have enough power to climb the hill back to Lewisburg.
Photo: Shackleton Auctions (https://www.shackeltonauctions.com)
Sources: The West Virginia News, www.oldcarsweekly.com.