On the heels of a three-match week, the Knights only had one scheduled match this past week – a rematch against Independence Middle. Earlier in the season, the Patriots upset the Varsity Knights on their home floor in three sets. With only one game to play, both the JV and Varsity Knights came out focused against two good Independence teams. They made short work of the Patriots, winning in two sets each. JV winning (25-23) (25-22).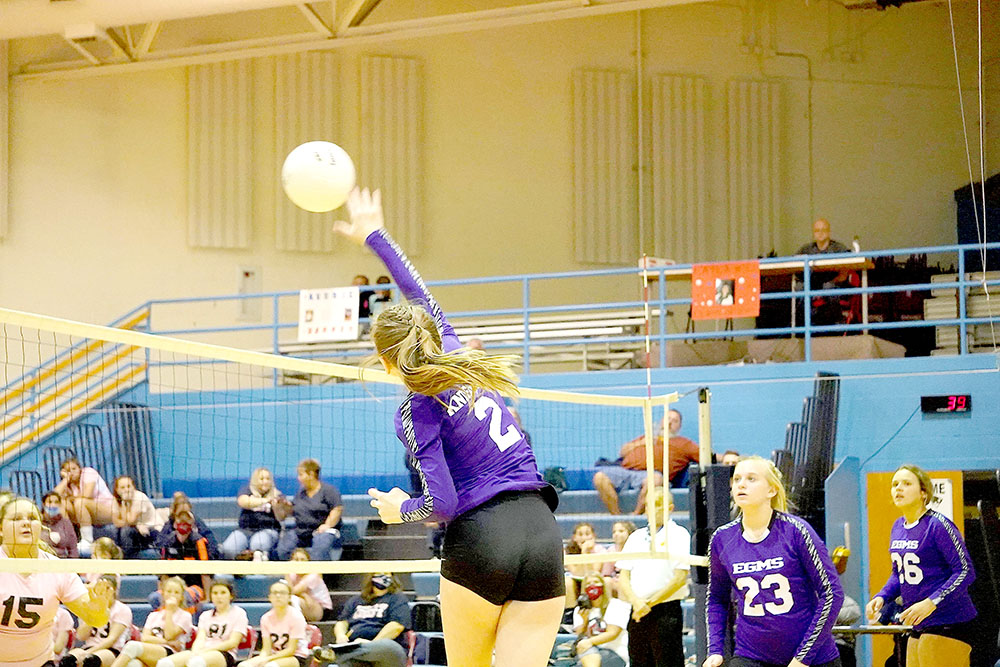 Mackenna McClure led the JV team in kills with five and three assists. She also led in passing with Norah Ambler, Trinity Perkins, and Kate Lehman doing a nice job, as well. Maddie Podsiadlik had a big night at the line serving seven straight points. Emily McClure had a nice night as well, she brought the team from behind with her five straight served points. Norah Ambler and Mackenna McClure rounded out the serving leaders for the evening.
Haley Workman and Natilee Wellman were busy at the net once again in the Varsity match with seven kills. Jenna Groves and Mollie Pack each added five. Leading in assists were Haley Byars with seven, and Natilee Wellman with four. Hailey Ervin, Allyson Martin, and Haley Byars were passing leaders on the night. Strong serving helped the Knights to secure victory with combined 14 aces. Allyson Martin had five to lead. Mollie Pack, Haley Workman, and Haley Byars contributed nicely as well.
This week will bring two more rematches for the Knights. Monday they will welcome powerhouse Shady Springs to Eastern. Then they make a trip to Union on Wednesday to rematch against the Mt. View Hawks. Saturday will also bring three other teams to the Knights for the annual Dig Pink Tournament. Normally this is a huge event for the Knights as they would welcome teams from throughout the state of West Virginia, but because of the limitations imposed by COVID-19, the event will feature three visiting teams. The records for both teams are Varsity (7-3) and JV (6-4).