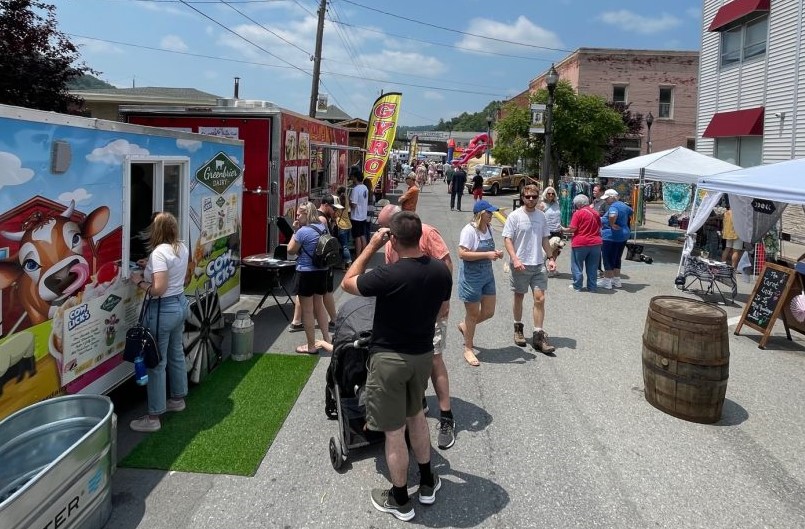 By Stephen Baldwin, RealWV
The Ronceverte Food Truck Festival (FTF) is back this Friday-Saturday along Edgar Avenue downtown. After an enormously successful first two months, organizer Alex Degraff says this month's FTF will have more of the things everyone loves… with a few new wrinkles.
"We have been blown away with the response," Alex comments. "People from all over the local area came out to celebrate together, and it has been so special."
After beginning on one block, last month they expanded to two blocks. That will continue to be the case this month, allowing for more space and less crowding. The FTF runs for two days.
On Friday, the fun begins at 3 p.m. and runs until 10 p.m. Food trucks, vendors, games and music will be available throughout the day. On Saturday, the FTF runs from 11 a.m. to 10 p.m. with the same lineup.
Locals can expect new food trucks like Sixpence Pizza, Flavor Mutt, Friar Tuck's Pantry, Greenbrier Dairy, Kobe Asian Fusion, Made to Crave, Poppy's Gyros, The Dawg House, and Twisted Sisters BBQ.
Musical acts include Bryce George, Lawless Brown, Matt Evans, Jim Snyder, Blue Twisted Steel, and Elements of Us.
Good news for all the kiddos, the expanded Kid's Zone is also returning! Expect several bounce houses, face painting, and new games.
New businesses in town such as Lionakis Diner, Primitive Goods, and The RNCVRT also plan to open for folks to stop by and check out what they have to offer.
Edgar Avenue will be closed throughout the duration of the FTF, so drivers should plan alternate routes.
Stay tuned to RealWV and follow the FTF on social media for updates during the weekend.