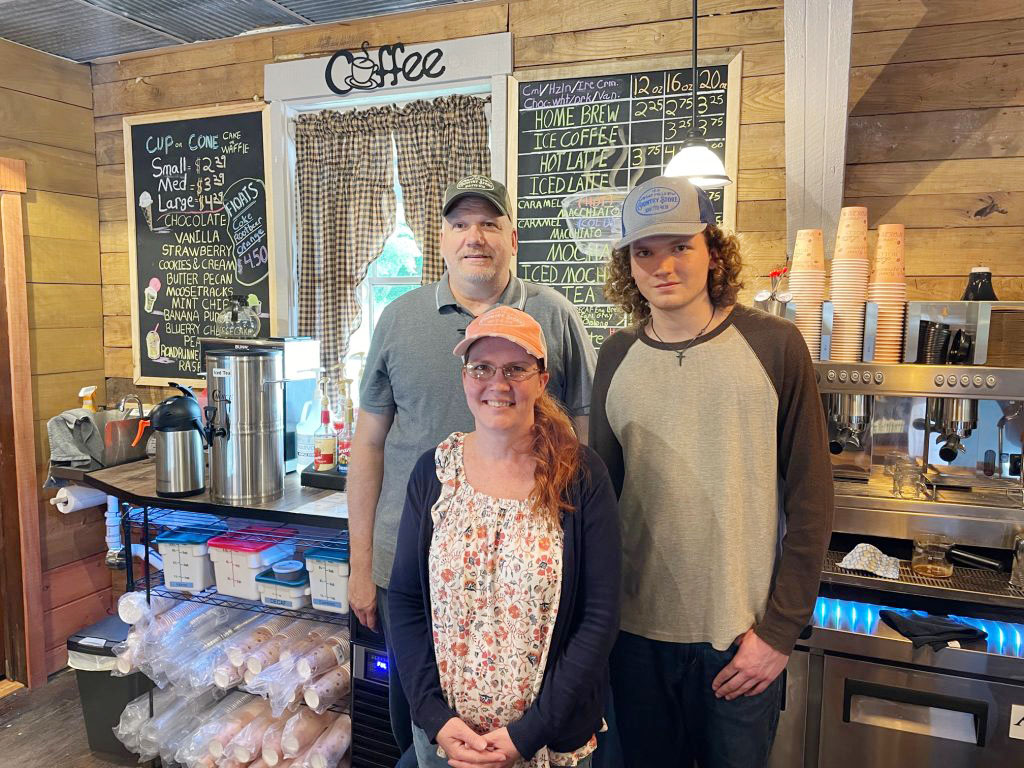 By Stephen Baldwin, RealWV
Eric and Lisa Heavener spent their careers working for others. While they are grateful for their experiences in law enforcement and retail, they wanted to build something of their own.
"We want to leave something to our son," Lisa says. "This country store will be his one day."
Eric, Lisa, and their son Matthew work full-time together in the store. When I visited last week, Matthew and his golden retrievers, Madison and Hudson, welcomed me inside.
"We're so tickled to be in the Gap," Eric says of their new business venture in Gap Mills, WV, located on Route 3 across from the famous Cheese 'n' More store. "It's a labor of love!"
Bob Joyce ran the store successfully for years, focusing on selling high-quality furniture. He decided to put it up for sale not too long ago, just as the Heaveners were looking for a business they could make their own.
"We've always loved Bob's store," Lisa reflects.
She and Eric stopped by one day. "After talking a little while, we had a verbal agreement with Bob." But the next day, Bob received a more generous offer from an out-of-state buyer. Then he received another offer the following day. "We didn't have any financing set up yet, but he honored our agreement."
And Bob is still very much a part of the store. He continues to sell his wind chimes and furniture in part of the store. One weekend a month, he also does cookouts for the community. "Chicken, hot dogs, and even pulled pork this month," Lisa says. "People just love his meals."
The Old Gap Mills Country Store blends the old with the new seamlessly. Richly-hued wood floors lead to immaculately clean shelves stocked with new items.
"We try to carry items for men and women, young and old," according to Lisa. So you'll find everything from kitchenware to pet supplies to clothing to fishing lures.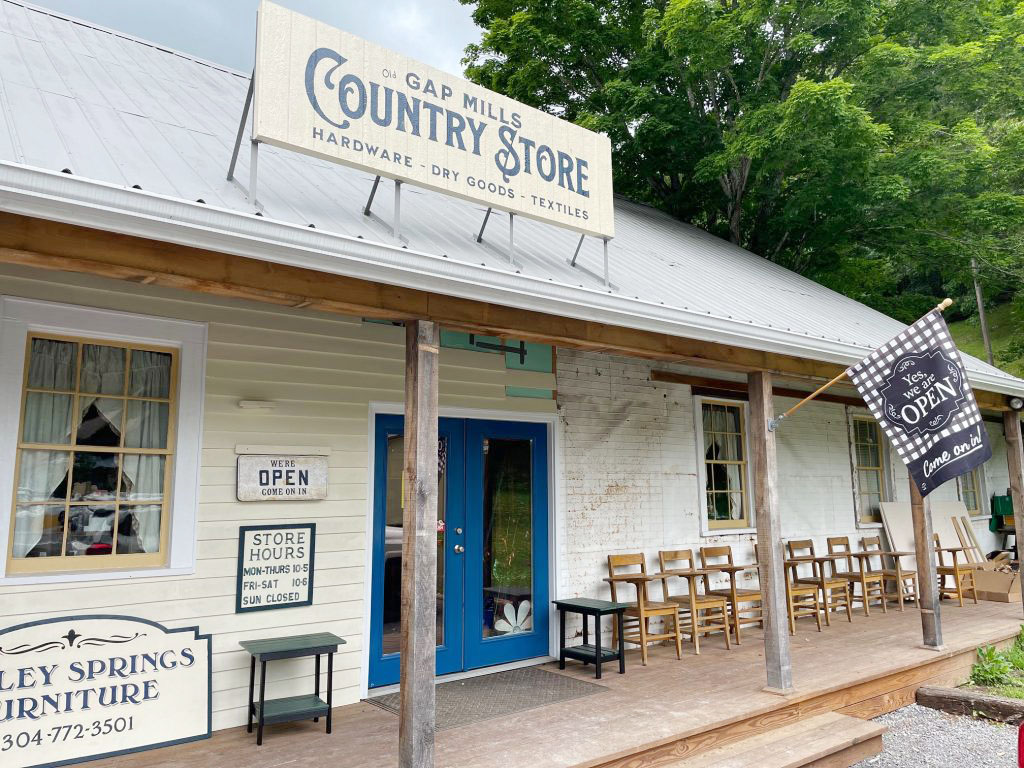 Eric says their Stonewall kitchen items are enormously popular and available at much more affordable prices than other luxury retailers who typically carry their products.
"We've got one guy who drives here all the time from Salem, VA," Lisa offers. "He likes our pipe tobacco."
The outdoor section contains fishing and hunting gear, which is perfectly placed for guests to Moncove Lake.
"Oh and the Myra bags," Lisa chimes in. "Ladies love those, and we keep them in stock."
My personal favorite item in the store was Jumpin' Johnny's local popcorn! It's award-winning popcorn grown locally in Monroe County.
Forgive me for not mentioning it sooner, but they also carry ice cream and coffees. "There's nowhere around here to buy hand-dipped ice cream," says Eric, "so we started carrying Hershey's ice cream." They began with four flavors, but are up to 12 now. And they keep ice cream birthday cakes in stock for special occasions!
"One farmer comes in every week to get an ice cream cone and sit on our porch," Eric remarks. "People are just comfortable here."
They have a large front porch lined with rocking chairs. The Heaveners recall a group of four ladies who recently visited. They attended the school at Gap Mills years ago and spent the afternoon reminiscing over ice cream on the porch.
"We even have some of the desks from the old school," Eric offers. "So we let them sit in the desks and feel like they were going back in time."
Just last week, the store also opened a coffee bar. But it's not just your average coffee bar. They sell Bloomprint Coffee. And you may not have heard of that company name before, but locals have heard of their owner – the renowned roaster Mattie Hardy, who hooked the Greenbrier Valley on locally-roasted coffee in the late 1990s at her coffee shop in Lewisburg, which is now The Wild Bean.
The store sells coffees, mochas, lattes, and more. Trained by Mattie herself, the Heaveners take pride in their coffee bar. And my wife, who is a coffee connoisseur with strong opinions, can't wait to go back for another mocha.
"It's all roasted fresh," Eric says. "We call Mattie to place an order, she roasts it, and gets it to us."
"Our customers are the most eclectic group of people," Eric says with a chuckle. "I've got farmers, mechanics, tourists, locals, fishermen, people walking the Alleghany Trail, all kinds." He says they are learning how to provide options that meet the variety of needs posed by their wide variety of customers. They love to get feedback on which products to carry, but they don't just carry an item on a whim. They try and take a thoughtful approach.
"We have folks who have asked us several times to sell wine," Eric cites as an example. "But we chose not to do that out of respect to the Mennonite community here in Gap Mills. They play a big part in our community, and we want to be respectful to them."
Eric, Lisa, and Matthew say they're in it for the long haul.
"We appreciate our regulars and everybody's support. We've been blessed. Everything fell in place. From the day we talked to Bob, everything fell into place. Like it's just meant to be."
Being able to work together as a family is a huge part of the attraction for the Heaveners. They get to spend each day together, and they love it.
They also love their neighbor businesses – Cheese 'n' More and the Dough Ball Bakery. "We trade with items just to support each other. We don't sell things they sell and so forth. It's a blessing to be in business as a family and with them here in the Gap."
The Old Gap Mills Country Store is located at 8869 Sweet Springs Valley Road in Gap Mills. They are open Monday-Thursday from 10 a.m. to 5 p.m. and Friday and Saturday from 10 a.m. to 6 p.m. They are closed on Sundays. You can reach them at 304-772-4178 or via Facebook.