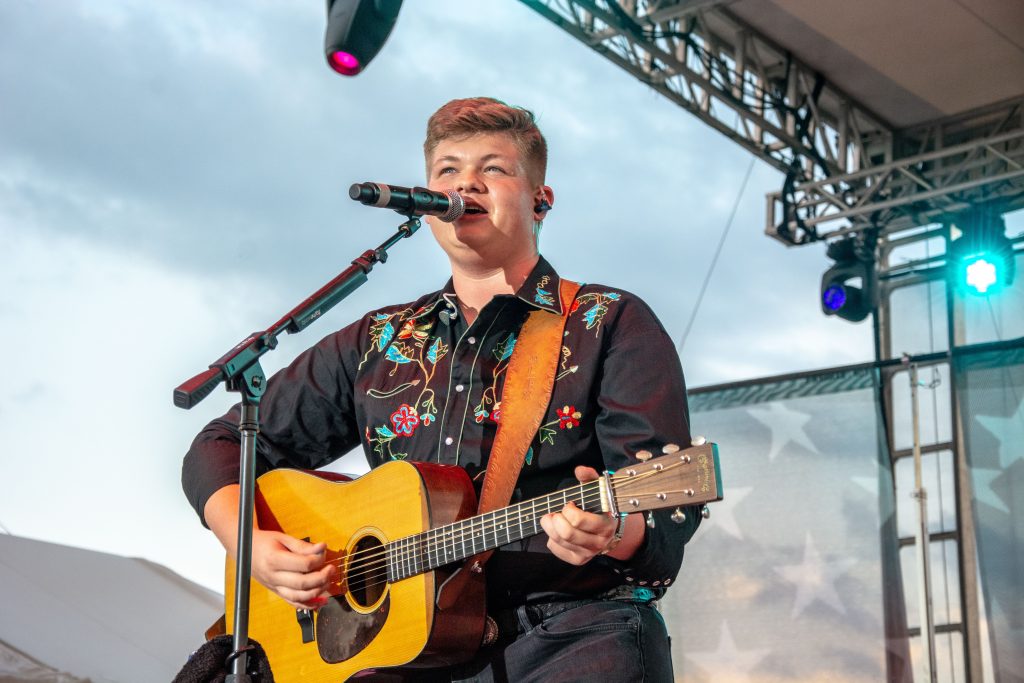 By Matthew Young, RealWV
"I love going out on stage and making people happy, that's the way I look at playing music. "It's making folks forget their problems so they can be at the show and have a good time. That's what I like doing, and, if I'm able to lighten someone's life, then I feel like I did something right."
That's what up-and-coming country music artist Alex Miller told RealWV just days ahead of his first ever performance in West Virginia.
In 2021 – at just 17-years-old – Miller made it to the top 64 "Showstoppers" round on the hit television competition-show American Idol. While Miller did not win the season, he did receive an invitation to perform one day on the Grand Ole Opry from celebrity host, Luke Bryan. Alex has performed the last two years on the Grand Ole Opry stage as a part of CMA Week's special event called, "Sunday Morning Country."
Now 20, the native-Kentuckian will make his way to Sutton on Saturday evening for a performance at the Braxton County Fair. The free show begins at 7:30 p.m., and will serve as Miller's introduction to Mountain State music-lovers less than two weeks before he takes the stage at the State Fair of West Virginia on Aug. 18.
"I've heard a lot about it, I've heard it's a great big fair," Miller said of the State Fair. "It's similar to Kentucky, but a little bit different. It's gonna feel like home."
Miller has come a long way since his 2020 American Idol audition. In just three years, the baritone-crooner has opened shows for mega-stars such as Brooks & Dunn, Hank Williams, Jr., Sawyer Brown, and Diamond Rio. His debut album, "Miller Time," was released in January 2022, and his monthly radio show of the same name premiered on European country music station, CMR Nashville.
"It's pretty wild," Miller said. "My mother signed me up for it (American Idol). I would've never done it myself. When I auditioned, I did Johnny Cash's 'Folsom Prison Blues,' and some older country. That kinda struck them (judges) because I was such a young guy doing that stuff."
"They just liked me, I don't know how else to say it – they just liked me," Miller added. "Then I did my song, 'I'm Over You, So Get Over Me,' that I wrote, and they really liked me then."
After a successful audition, Miller was quickly on his way to the bright lights of Hollywood.
"I'd never been to California before in my life," Miller said. "That was a wild experience, but it was cool. They (American Idol judges, production crew) were about as nice of folks as you could ask for – treated me just like I was one of them."
Miller's songs, often written about relationships – more often written about relationships devoid of a happy ending – carry emotion that is seemingly beyond the years of their author.
When writing, Miller said, he draws inspiration from the experiences of his youth, as well as the experiences of his brief and early adulthood.
"The place I go is always to my childhood," Miller noted. "I draw from that a lot, as well as my personal experiences relationship-wise."
"Being an entertainer and trying to hold a relationship is very, very tough," Miller added.
However, it is more than those life experiences which Miller draws on. In his professional life, Miller has found both a friend and a mentor in award-winning songwriter, Jerry Salley.
"He's one of the best I've ever written with," Miller said. "He wrote for Reba (McEntire), John Anderson, you name it. He's even got a song on Chris Stapleton's 'Traveler' record that he wrote."
"When you sit down and write a song, you always bring in two or three ideas that you think people will like," Miller continued. "Whenever I went in to write with Jerry, everything clicked – everything just seemed natural and right. It was like I was writing with an old friend."
"Jerry writes in such a way that he gets everything out of a song," Miller added. "He has the ability to make stories come out of nowhere. That's what I like about him, he's a great storyteller."
But for Miller, the true test of a song is the crowd's response to hearing it played.
"A lot of the songs that I've recorded were things that I had written or that I was working on," Miller said. "What I would do is play them at shows and see how people reacted to them. There were a few songs on the record (Miller Time) that I didn't get to play live, and I was a little nervous about that. The way I look at it is, if it doesn't work at a show, it's not gonna work on a record either."
"I can tell which ones people like and which ones they don't," Miller added. "The way I can tell is by people's feet – if they're tapping their foot, nine times out of ten they like the song."
To music fans in West Virginia, Miller said, "Come on out and see my show!"
"It's gonna be a good one," Miller added. "If you like country music – specifically if you like good cornbread country music – then you're at the right place with me, I guarantee it!"
For more about Alex Miller, including his merchandise store and a complete schedule of upcoming performances, visit alexmillercountry.com. For information about Miller's Aug. 18 performance at the State Fair of West Virginia, visit statefairofwv.com.