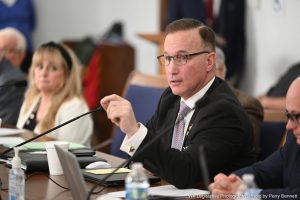 By Matthew Young, RealWV
"The Governor has appointed me to serve as the new Inspector General for the Department of Homeland Security," Del. Mike Honaker, R-Greenbrier, told RealWV Wednesday afternoon. "That is effective tomorrow."
Honaker made this statement shortly after announcing his resignation from the West Virginia House of Delegates, a position which he has held since December 2021, via social media.
Honaker will be the first to serve the state as Inspector General for Homeland Security – a position and office created by the recent passage of HB 3360. The bill specifies "the Office of Inspector General [shall be] a separate and independent operating agency within the department." The bill further states that the Inspector General shall be appointed by the governor to serve a five-year term.
"When they got about 90-days out from that bill being signed is when they started talking to me," Honaker said. "There's a tremendous amount of responsibility with being an Inspector General, especially when it involves the Department of Homeland Security and all those agencies that fall under it."
"The Inspector General is much more than internal affairs," Honaker added. "It's more the high-level investigations of fraud, waste, abuse, sexual harassment, or criminal matters that rise to that level."
Agencies such as the State Police, the Department of Corrections and Rehabilitations, the State Parole Board, the Office of the State Fire Marshal, the Division of Justice and Community Service, and others all fall under the umbrella of the Department of Homeland Security. As outlined in HB 3360, the Inspector General will coordinate and perform inspections and investigations independently, and without interference from the office of either the Governor, or the Secretary of the Department of Homeland Security.
"I'll have some staff, an attorney, and probably a couple Deputy Inspector Generals," Honaker said. "There's a lot of work to be done."
Honaker, who served previously with the U.S. Marine Corps, the Virginia State Police, and as Director of Homeland Security and Emergency Management for Greenbrier County, was surprised to learn that Justice had selected him for the position, saying, "I about fell out of the chair – I didn't see it coming."
"It's a great honor," Honaker said. "I'm very passionate about exposing wrongdoing in government, and making sure people are held accountable. But I have also, even in my law enforcement career, taken a great sense of fulfillment in vindicating or exonerating the innocent when false allegations are made."
"I think the leadership in Governor Justice's Administration saw that in me," Honaker added. "I think my background and my experience is why I was selected. My attitude toward all of this is simple: if people have been doing things wrong, they need to be held accountable. But at the same time, we've got to get the rest of the public safety community moving forward."
Wednesday's announcement marks the second time Justice has appointed Honaker to a service position. In 2021, Justice appointed Honaker to the House of Delegates after the resignation of former Delegate Barry Bruce. Honaker was subsequently elected to the seat in 2022. Honaker's resignation from the House became effective at 5 p.m. Wednesday.
Honaker's replacement in the House will once again be determined by the Governor's appointment. The Greenbrier County Republican Executive Committee now has 15 days to submit three names for Justice's consideration. Justice will then have five days to make his selection.
As for Honaker's future plans, he said he is focused solely on the task ahead.
"I want to see us turn the corner on any doubts that people have about public safety in West Virginia," Honaker said. "I want people to understand that we have got so many great men and women serving in law enforcement, in emergency management, in corrections. The only way we can continue to affirm that is to tell the truth if we find wrongdoing. But also, be just as strong with allegations that are unfounded."
"I won't make any bones about it – this is a great, great honor," Honaker added.
RealWV will provide updates regarding Honaker's replacement in the House of Delegates as additional information is made available.