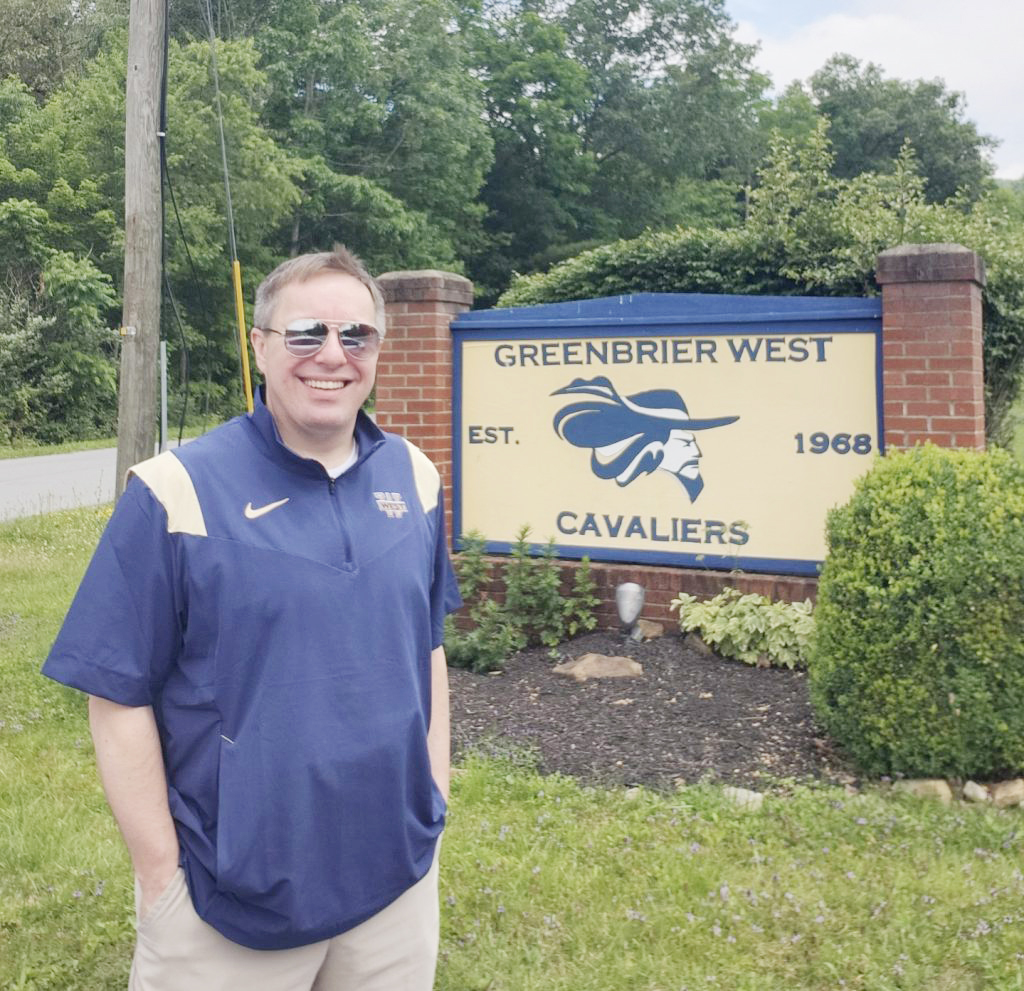 By Matthew Young, RealWV
Significant changes lie in store for the students of Greenbrier West High School (GWHS) as they prepare to resume classes next month.
Many will, of course, be in awe of the brand new track and artificial turf football field which will stand ready to greet athletes for the start of the fall sports season. However, there is another change that will be every bit as impactful – one which will help to shape the scholastic journey of students for years to come. While that change may not present itself with all the pomp of such impressive athletic facilities, it certainly brings with it all of the circumstance.
For almost as long as most students at GWHS have been students anywhere, Amy Robertson has served them as the school's principal. But with Robertson departing this summer to become the assistant superintendent of Pocahontas County schools, West found itself needing a new ship's captain.
Enter Adam Young.
"We can honor and respect the past," Young said, while speaking this week with RealWV, "But I'm excited to be part of the future."
Despite having previously served a term in the West Virginia House of Delegates, Young has spent most of his adult life as an educator. Before being named principal of GWHS, Young worked for 15 years as a social studies teacher in the Nicholas County school system, and one year as an assistant principal in Webster County.
"I don't want to come in and reinvent the wheel," Young said. "I want to assess where we're at, and look at areas that may need improvement."
Greenbrier County Superintendent of Schools, Jeff Bryant, called Young "a veteran educator."
"He's spent quite a few years in a classroom, and he's been very successful there," Bryant said. "He's been an administrator at the high school level, and he comes highly recommended."
"He's 100% in as a Greenbrier West Cavalier," Bryant added. "He's all in. He's embracing the community, and I think it's evident that the community is embracing him. We're looking forward to him having a successful career."
Bryant's optimistic-excitement is something that Young shares.
"He's (Bryant) been very helpful and very supportive," Young said. "Everybody that I've worked with (at GWHS) so far has been helpful and supportive."
"Probably more so than any place I've ever been – the focus is on the kids of Greenbrier County," Young continued. "That's one of the reasons I'm glad I'm here. I do think it is very kid-centric. The focus is on student-achievement, and student-wellbeing. I think those things should go hand-in-hand."
"School is here for a purpose," Young added. "There are good things that you can do – extracurricular things. But academic achievement and getting the students to believe in themselves is important too. I think we have to celebrate all achievement. Every kid has a niche, and those need to be celebrated just as much."
While Young will be maintaining his home outside of Greenbrier County, he has also secured a residence in the Meadow River Valley to both minimize his commute, and maximize his time spent in Charmco.
"I did feel it was important to move into the area, at least some of the time," Young said. "It takes about 40 minutes to get (home), and I wanted to be close to the school."
Beyond simply being a physical presence within the community, Young hopes that the students, staff, friends, and family of GWHS find him to be both engaging and approachable.
"I just want them to know that I'll always be open to what they have to say, and I'll always be there to listen," Young said. "We may not always agree, but I'll always give them the opportunity to be heard."
"I want Greenbrier West to be the best that it can be," Young added. "It's not my school – it's our school. There's a lot of great traditions there that I want to continue, and I want us to start some new traditions."
The 2023-2024 school year in Greenbrier County begins on Monday, Aug. 28.